Testimonials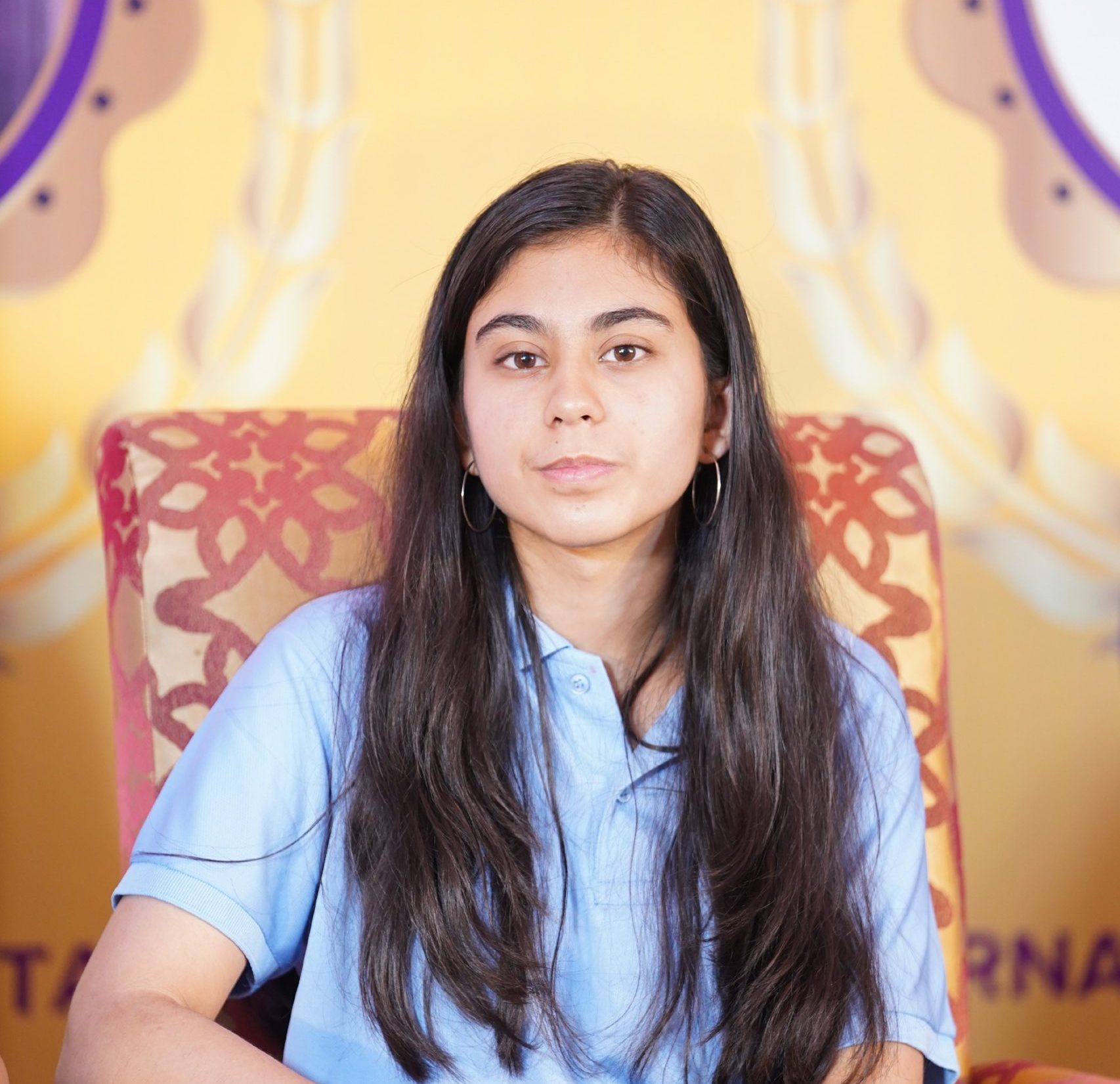 Arshiya Gupta
AILET-2023 | AIR 3 | NLU DELHI - 1 | Breeze Offline 2023 | Enr ID: 2217200056
I had a lot of friends in Clat Possible but it took some time for me to really join it due to varied decisions. And that proved to be the best decision of my life because I knew I had the caliber, but I really needed the direction that Clat Possible provided.
I was one year student at Clat Possible, but I'd had Clat and Ailet in mind for 2. I just knew that I had to make it to the other side and that I'd give it my all. I also had a great peer group and they really pushed me to give my best, all the while making the entire process enjoyable.
I think the best thing in Clat Possible is that they really know these law entrances well. They know what they entail and what training they need to give to their students. They also have a great faculty, who really get to the root of the logic involved in the question. Their excellent mocks and their excellent students really provide an atmosphere which is competitive but cordial at the same time.
I think if you really want to achieve something, you've got to get really determined to get it. First make sure that the decision which you are making is the right one and then go for it. Its mostly about determination and consistency.
The wall of possibilities
Don't believe us? Hear directly from our students.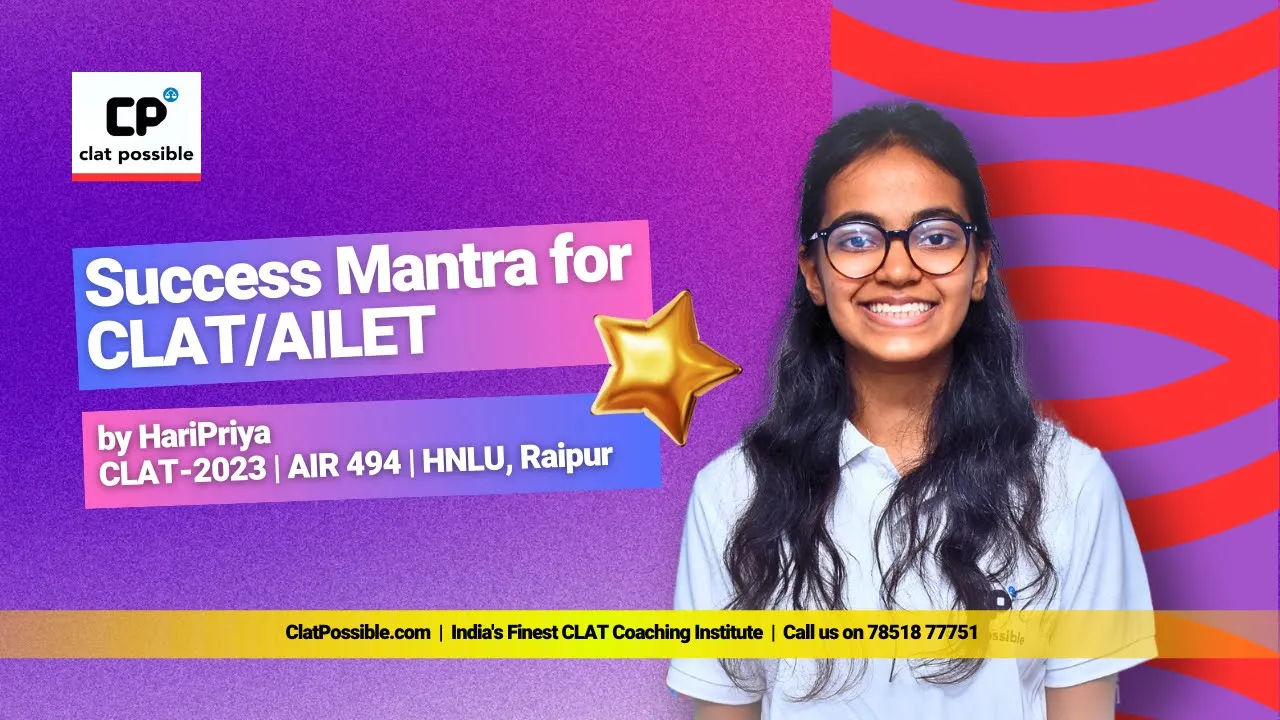 HariPriya CLAT-2023 AIR 494, HNLU, Raipur.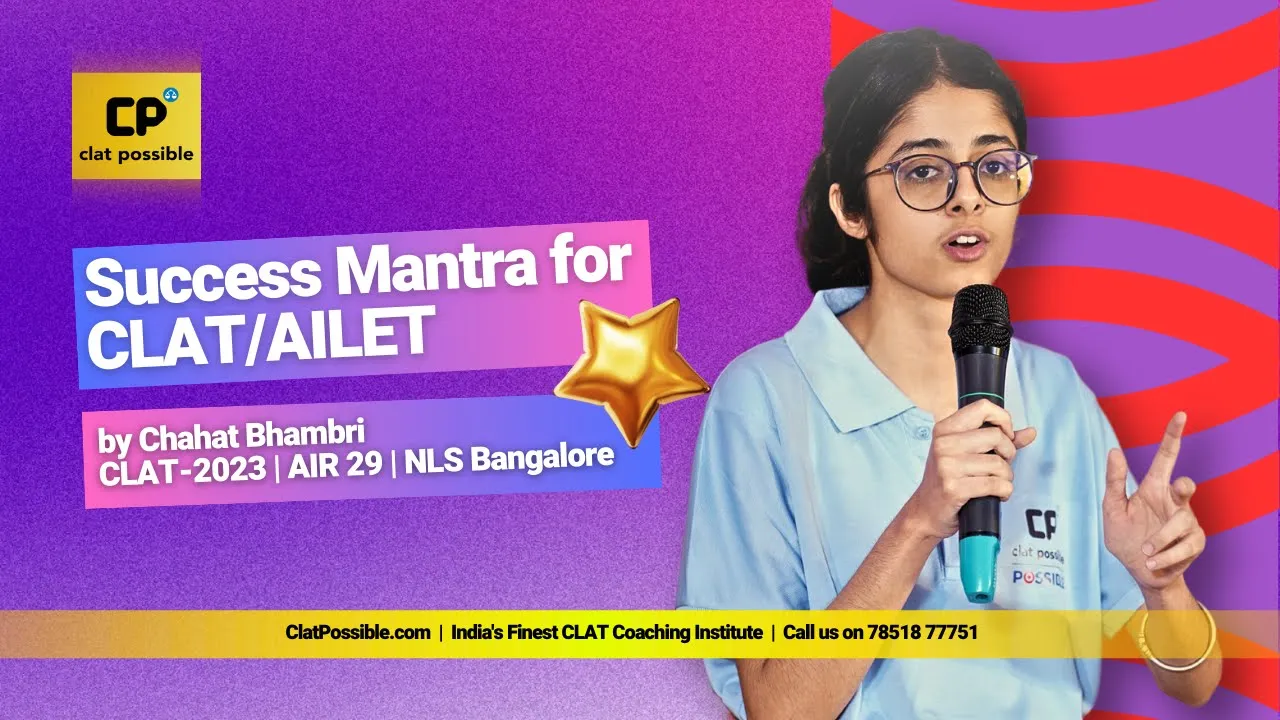 Chahat Bhambri CLAT-2023 AIR 29 , NLS Bangalore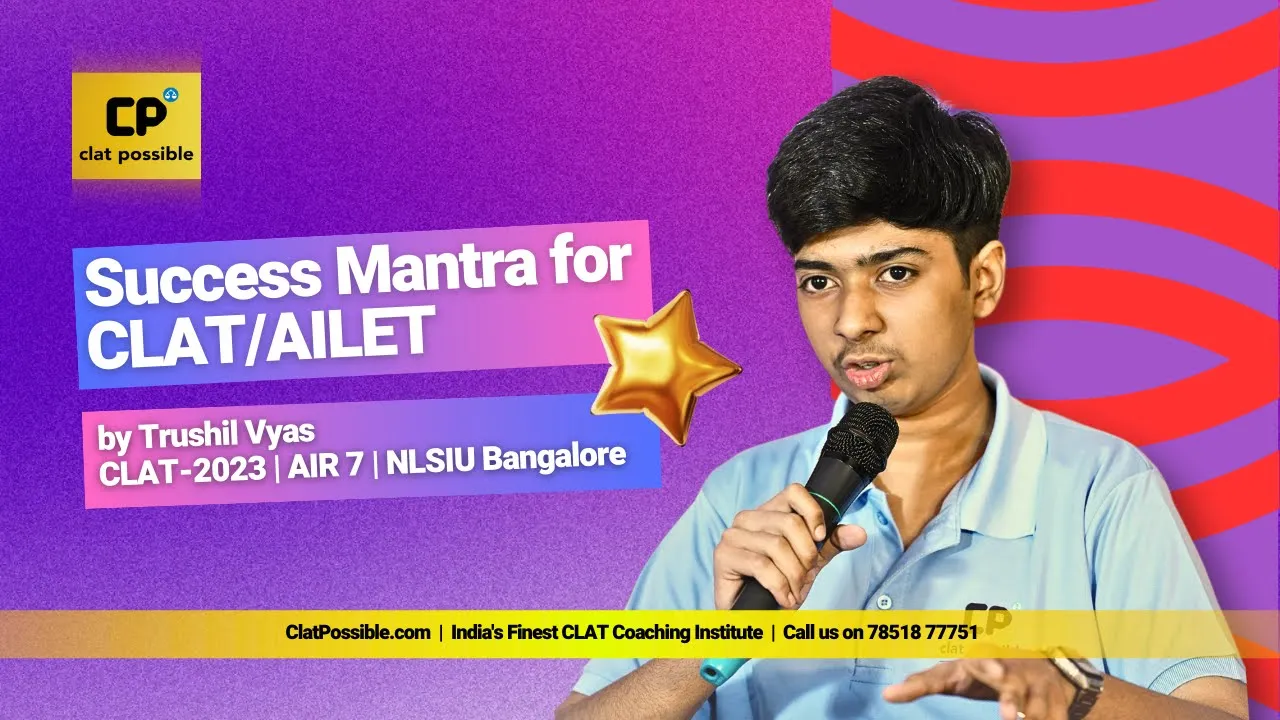 Trushil Vyas CLAT-2023 AIR 7 | NLSIU Bangalore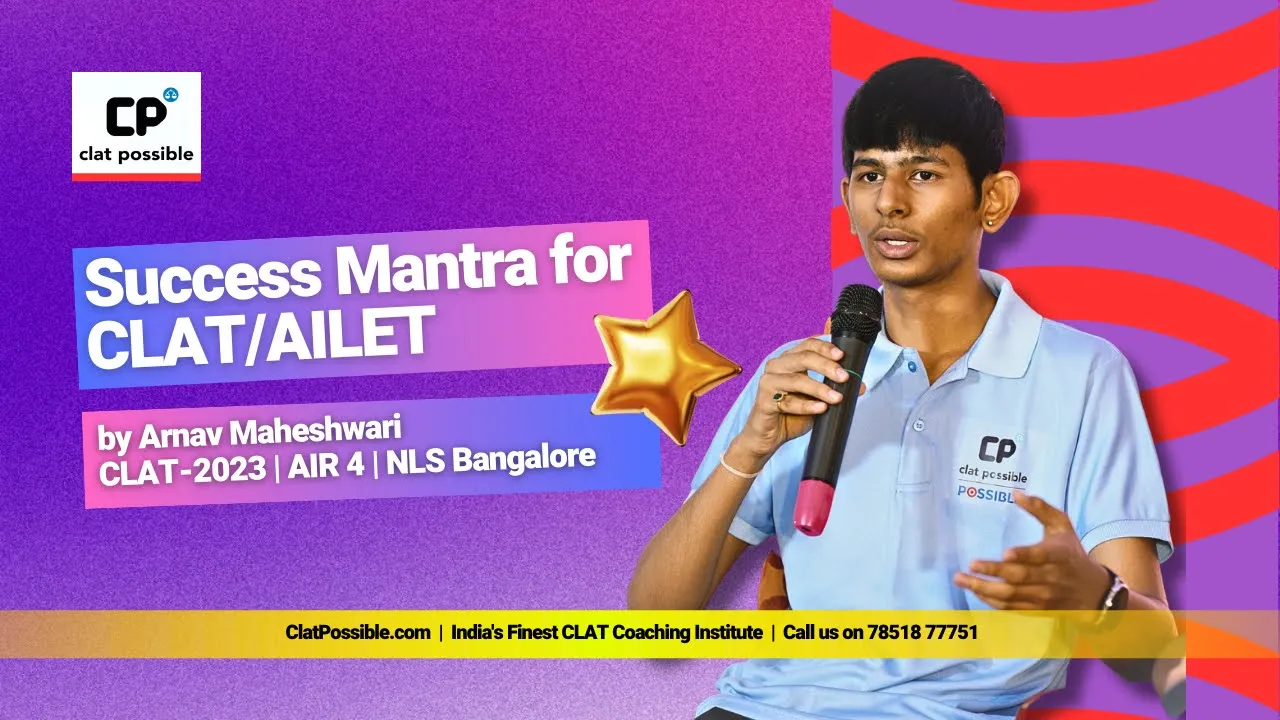 Arnav Maheshwari CLAT-2023 AIR 4, NLS Bangalore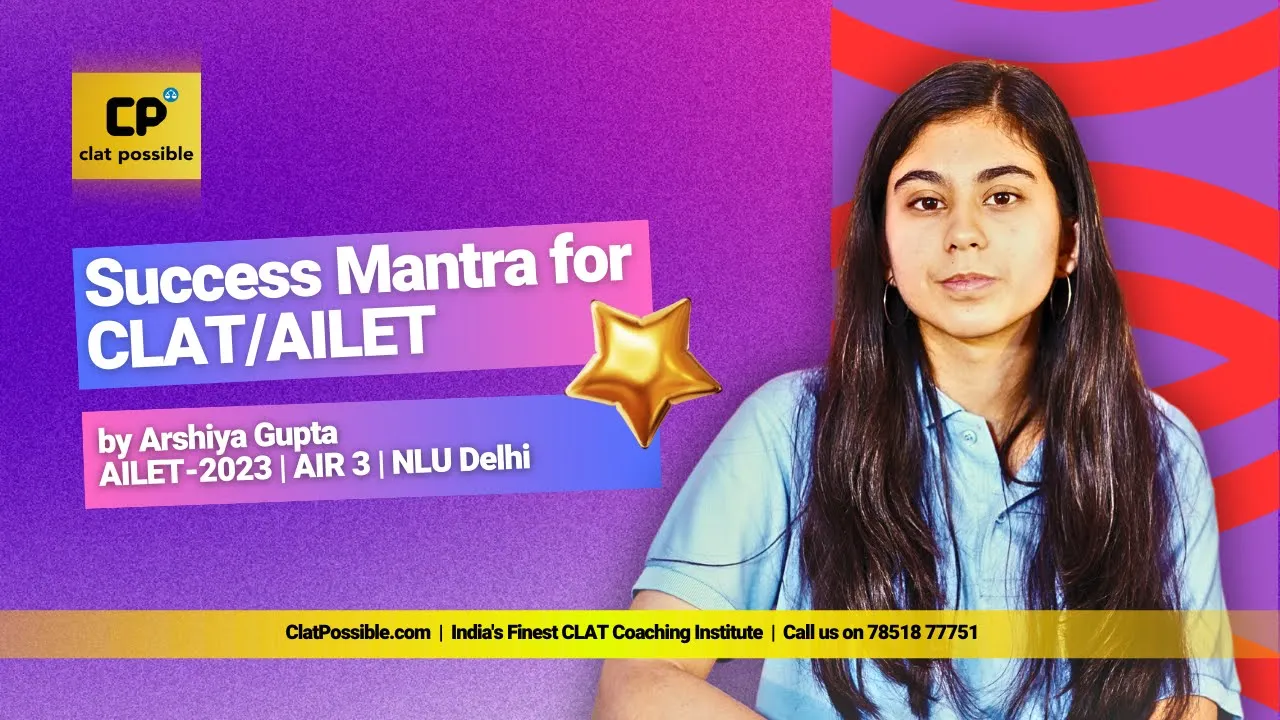 Arshiya Gupta AILET-2023 AIR 3 | NLU Delhi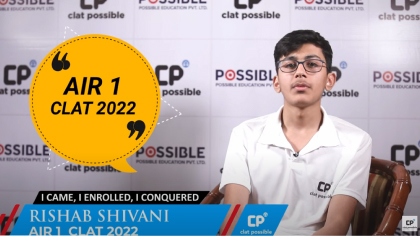 RISHABH SHIVANI, CLAT AIR 1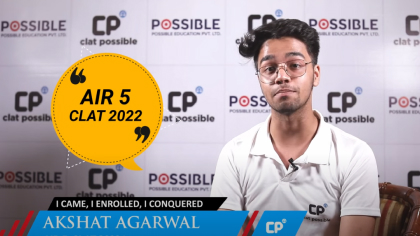 Akshat Agarwal, CLAT AIR 5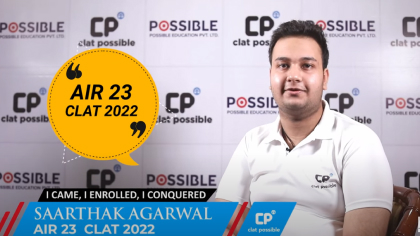 SARTHAK AGARWAL, CLAT AIR 23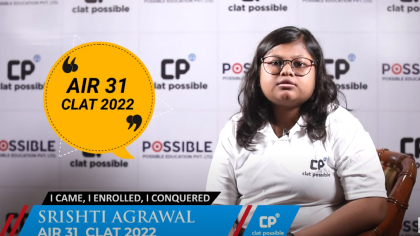 SRISHTI AGRAWAL, CLAT AIR 31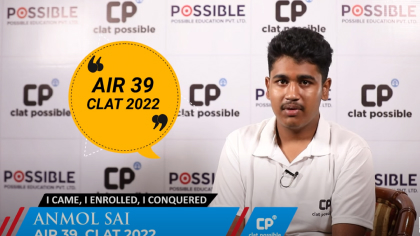 ANMOL SAI, CLAT AIR 39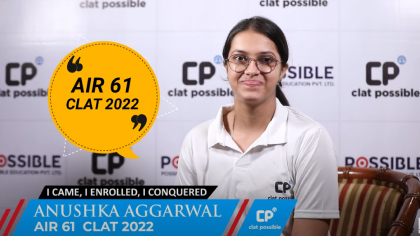 ANUSHKA AGGARWAL, CLAT AIR 61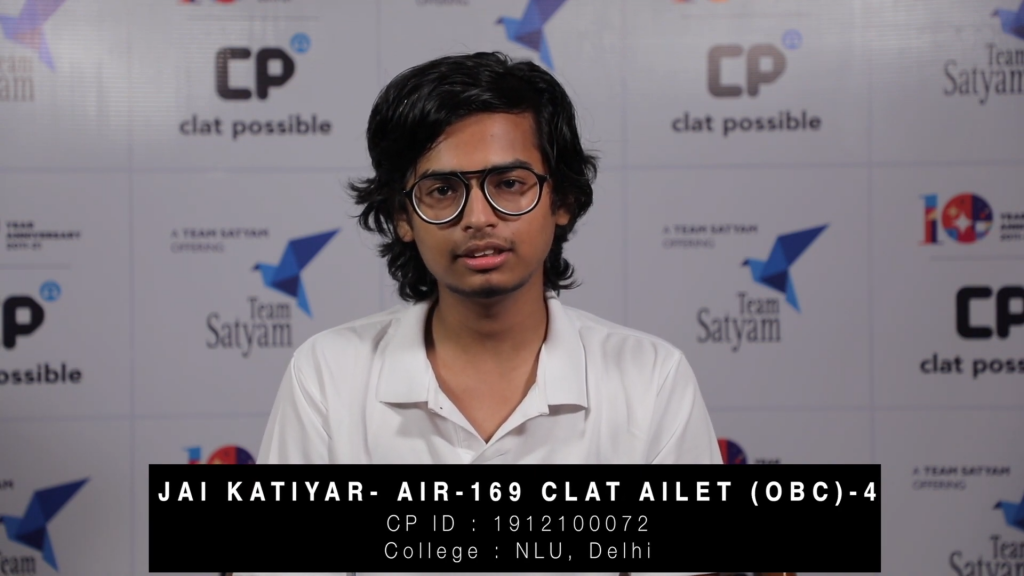 Jai Katiyar, CLAT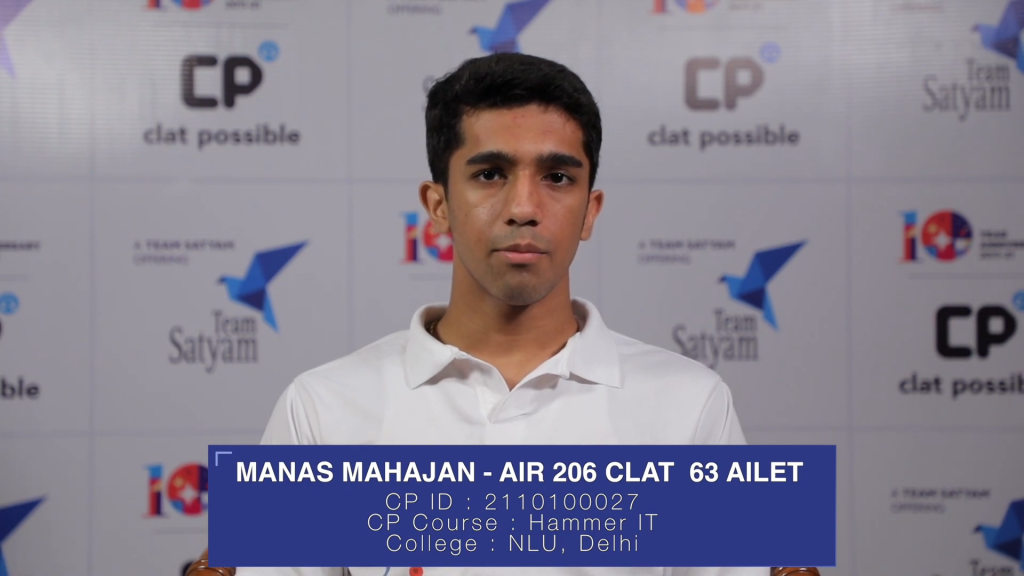 Manas Mahajan, CLAT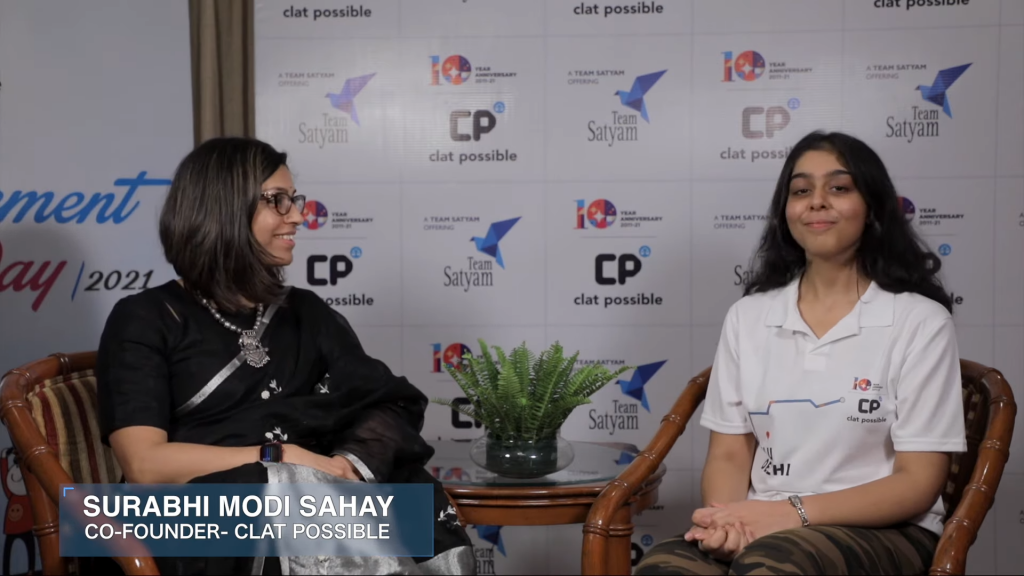 Manya Gupta, CLAT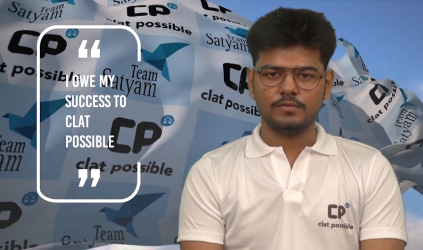 Ashish Sharma, CLAT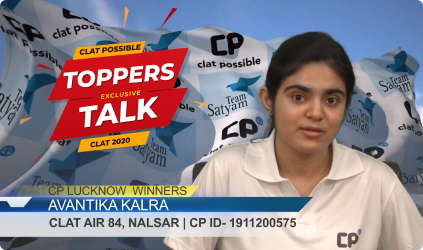 Avantika Kalra, CLAT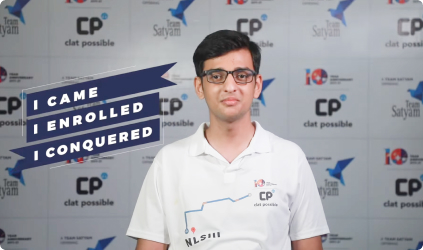 Saif Ali, CLAT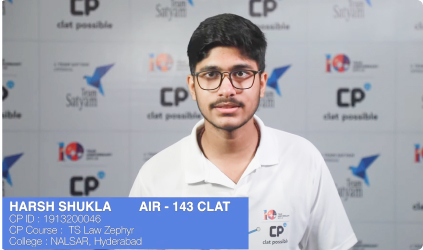 Harsh Shukla, CLAT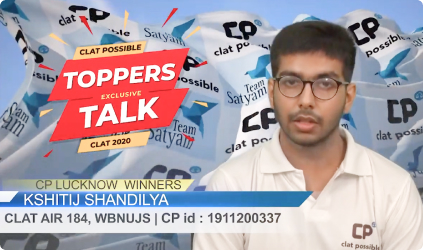 Kshitiz Shandilya, CLAT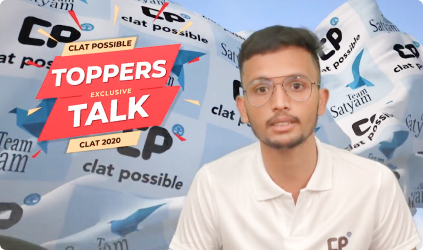 Devansh Bhatt, CLAT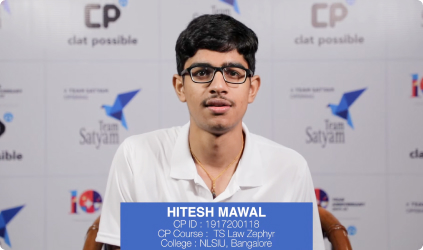 Hitesh Mawal, CLAT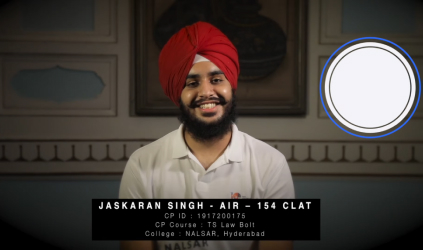 Jaskaran Singh, CLAT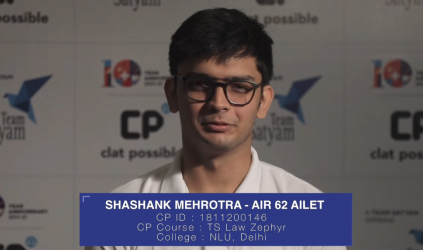 Shashank Mehrotra, AILET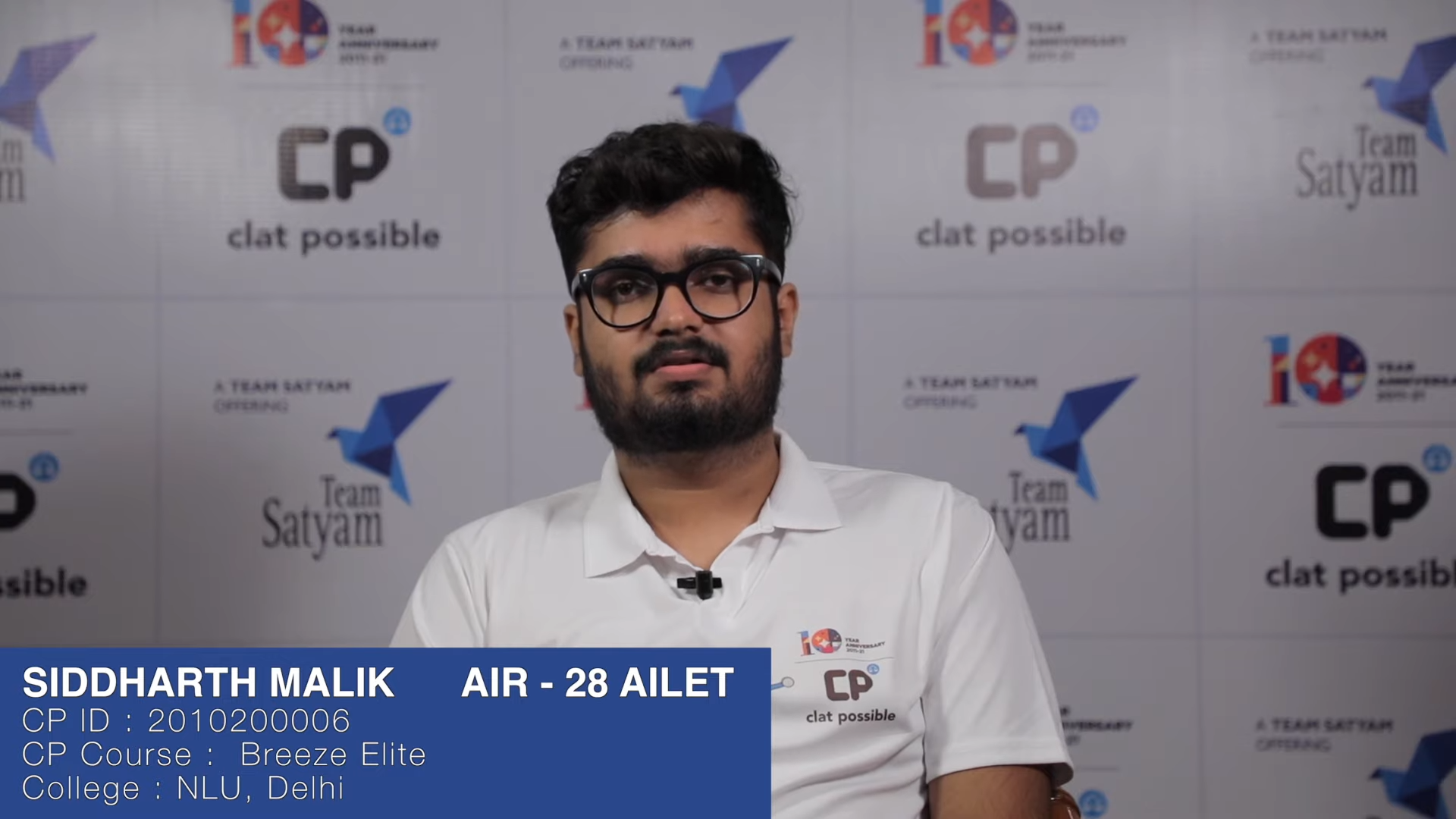 Siddharth Malik, AILET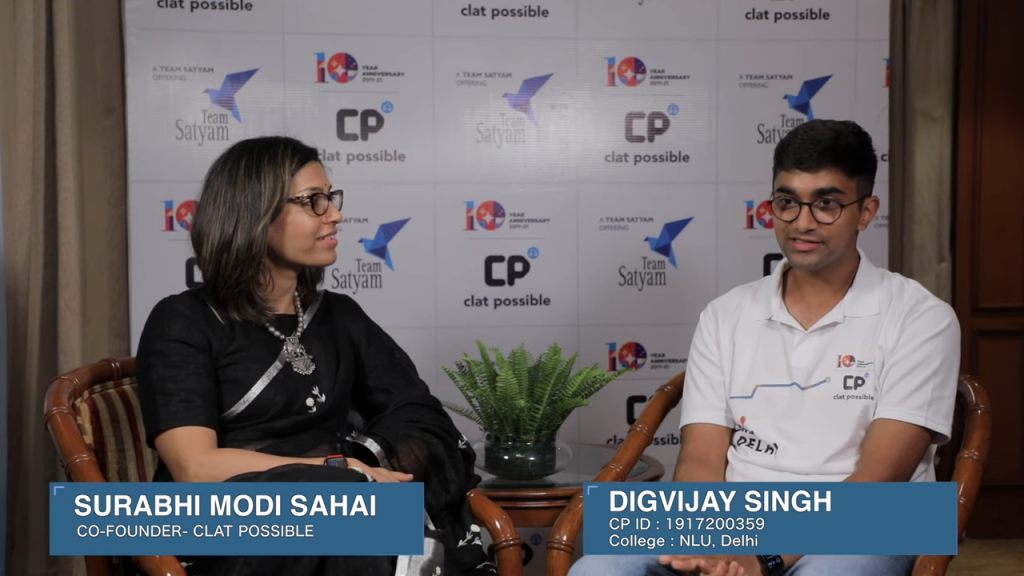 Digvijay Singh, CLAT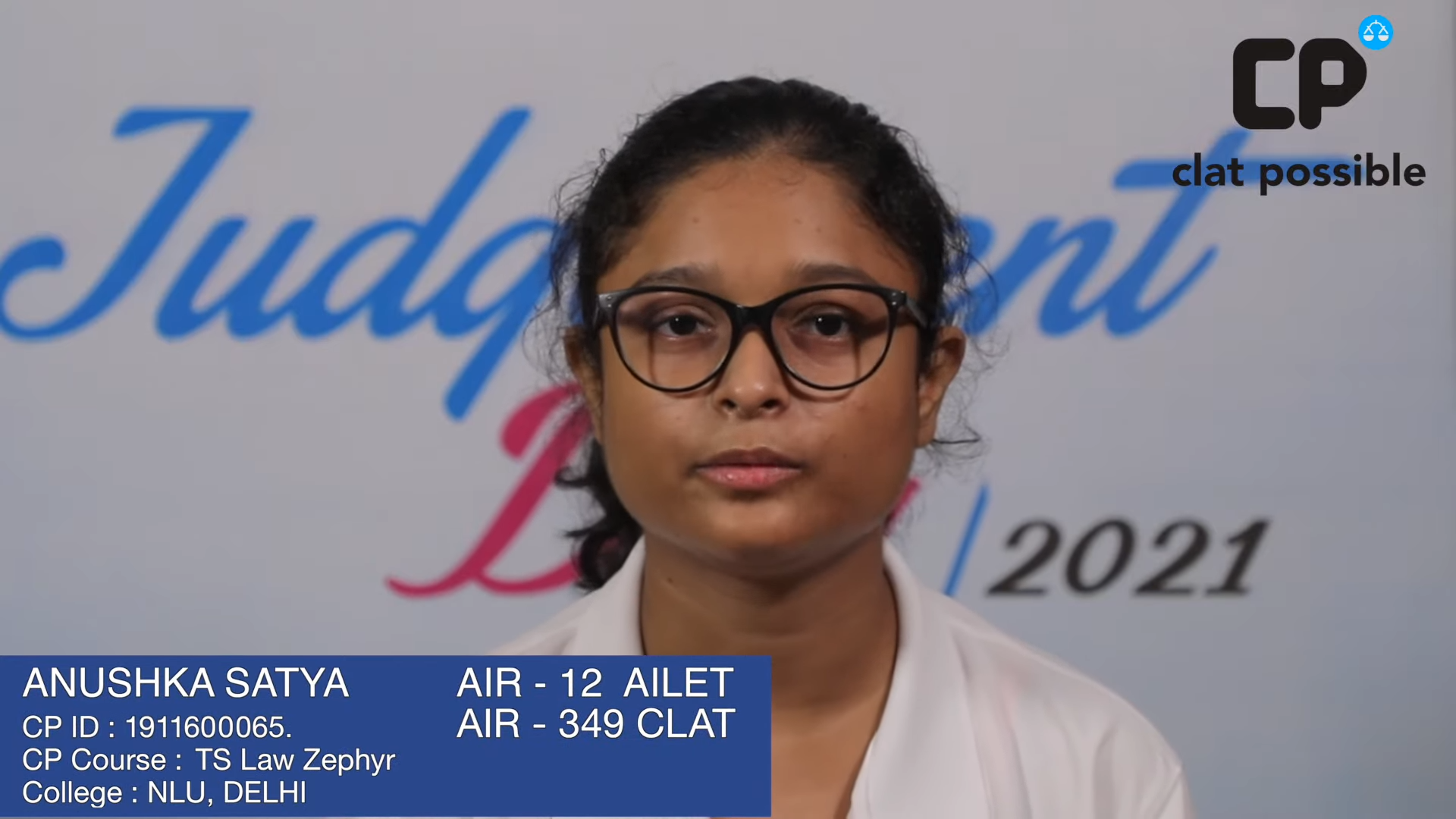 Anushka Satya, AILET

I found the mocks to be aligned with the actual CLAT paper. The English section was really aligned to what was actually asked in the paper. There was some change in every mock so as to make us comfortable with the changes that may be introduced in the actual CLAT paper. I thank clat possible for all the support extended in my clat preparation journey
Rishabh Shivani
AIR 1

I enrolled for Zephyr two-year online program at Clat Possible and have secured AIR 3. I would like to thank CP for constant guidance and encouragement. Thank You Clat Possible for all the support
Shivaansh Chaudhary
AIR 3

Nothing can beat the faculty CP. They are not just our mentors but also our well-wishers. The kind of camaraderie we have with our teachers is something that I have never seen before with anyone.The CP study material is a class apart. It really made us sweat and prepared us for whatever came our way. The quality of mocks is commendable. CP excels at stimulating our brains to think out of the box
Akshat Agarwal
AIR 5

I subscribed to CP as I had got good references about their news compendiums. Their mocks were useful too. The CP mocks were very helpful in boosting my preparation. They were difficult as compared to other mocks which gave me an extra edge over others on the D-day
Sanjana Rao
AIR 7 CLAT 2022

I joined CLAT Possible in the 11th standard. The two-year program meticulously designed for students attending school helped me in preparing for CLAT and other law entrance examinations, with my regular schooling. The mentorship that I received from teachers at CP helped me strategize my preparation and assess my performance on a daily basis.
SAIF ALI
CLAT AIR -32

I started my preparation in class 12th and secured AIR 51 in CLAT 2021. CP is a very reputed name for CLAT entrance preparation and my school friends also backed up the claims with results. CP has helped me achieve this feat with its mocks, test series, guidance, and above all, dedicated faculty. CP mocks and study material helped me prepare intensively.
SHAILEY SINHA
CLAT AIR -51

I got 72 rank in CLAT 2021 in my first attempt, which I sat for along with class 12 boards. I'd like to thank the CLAT Possible team for playing a major role in my preparation. I had enrolled in the 2-year Classroom program and I sincerely recommended to all aspirants. The professionalism, speed, and quality of the feedback I received helped me immensely and improved the quality of my answers.
PRIYANSHU MISHRA
CLAT AIR -72

CLAT Possible is a result-oriented organization with excellent faculty who are extremely responsive and address every query promptly. There are active discussions on current affairs which helped me greatly in the preparation for current affairs. I would like to thank them for their invaluable role in my preparation.
NIDHI AGRAWAL
CLAT AIR -2

I had enrolled in the Zephyr Batch of 2021 and right from the start CP proved to be an invaluable tool in my arsenal for the CLAT. Its excellent faculty, coupled with an impeccable range of compendiums, class exercises, and sessions guided my preparation, laid down fundamental concepts, and stood behind me at every step, constantly inspiring me and pushing me to strive harder.
MANYA GUPTA
CLAT AIR -33

I am from Dehradun and appeared for CLAT 2021 & secured an All India Rank of 16. CP's mocks helped me a lot in preparing for CLAT. The detailed solution analysis was very helpful. I am thankful to CLAT Possible.
ARCHITA SHARMA
CLAT AIR -16

CP prep material and mocks are possibly the best and most comprehensive ones you can find and mentors are some of the most experienced and helped me raise my mock scores by working on my weaknesses and further honing my strengths. I was a two-year classroom student at CP and the kind of environment and guidance I received helped me immensely.
ANANYA TANGRI
CLAT AIR -28
Discover what's Possible
Follow us on Social Media
Visit us at your favorite platforms & stay abreast with everything at CLAT Possible.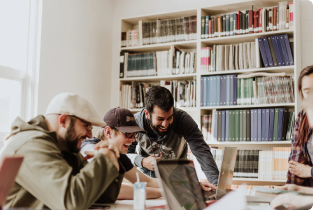 Become a CLAT possible partner
Learn about our partnership program and grow with us at CLAT Possible.
Partner with us