By I Sep 20, 2023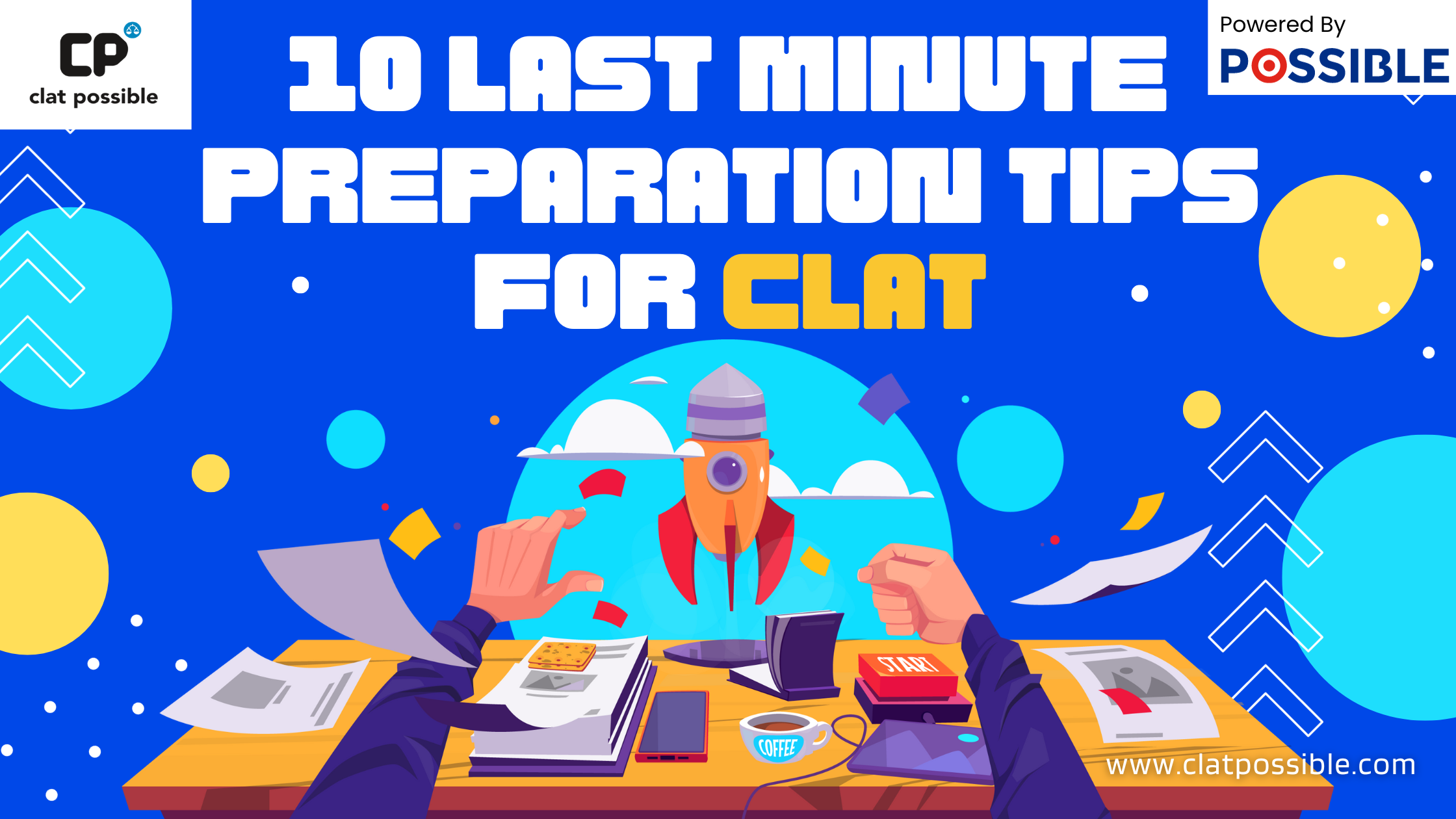 The CLAT (Common Law Admission Test) is an all-India entrance examination, which is conducted to provide admissions to undergraduate and postgraduate law courses. With the date of the examination approaching quickly, many aspirants might be feeling the pressure. However, if you're one of those who hasn't had the time to prepare as extensively as you'd have liked, don't fret. We've got you covered with these 10 last-minute preparation tips.
1. Prioritize Your Study Topics:
Start with the subjects you're weakest in. Understand the weightage of each subject and focus on the ones that carry the most marks. If Legal Aptitude is causing problems, spend more time on it as it carries significant weightage.
2. Take Mock Tests:
Practice makes a person perfect. Even if you've read everything, taking mock tests can show where you stand. Analyze your errors, understand the pattern, and work on your weak areas.
3. Stay Updated on Current Affairs:
This can't be stressed enough for CLAT. Keep an eye on the news, especially legal and international developments. Note them down and revise them frequently.
4. Time Management:
Attempt questions you're certain about first. This ensures that you're bagging sure-shot marks before moving onto trickier questions. Also, it's better to leave a question rather than making a wrong guess, as there's negative marking.
5. Clarify Doubts:
Use the internet or ask friends, but make sure that any doubts you have are clarified. This can be the difference between a right and a wrong answer.
6. Make Short Notes:
Jot down important points, formulas, and facts. These will not only help you during revision but can also be useful for a quick glance on the day before the exam.
7. Stay Calm and Confident:
This is perhaps the most critical point. Stay calm, even if you feel you aren't prepared enough. Your confidence can be a major asset.
8. Healthy Lifestyle Choices:
Eating a balanced diet and getting proper sleep can greatly impact your performance. Avoid caffeine or any other stimulant just before the exam.
9. Do Not Cram:
It's essential to understand than to memorize. Comprehension will help you tackle unfamiliar questions, while rote learning might fail you.
10. On the Day of the Exam:
Reach the examination center well in advance. Keep all required documents ready a day before. Remember to read all instructions on the question paper carefully.
FAQs on CLAT Last Minute Preparation:
Q1: How important is the Legal Aptitude section in CLAT?
Answer: Legal Aptitude is one of the most significant sections for CLAT. It tests your interest towards the study of law. Make sure to focus on this section.
Q2: Can I crack CLAT with just one month of preparation?
Answer: While it's advantageous to start preparing early, it's not impossible to crack CLAT with a month of dedicated study, especially if you follow focused strategies and study efficiently.
Q3: How many hours should I study daily just before CLAT?
Answer: Quality is more important than quantity. While 6-8 hours might be optimal for some, it's essential to take regular breaks to ensure you're absorbing what you study.
Q4: Should I keep revising or take new topics a week before CLAT?
Answer: It's advised to revise and consolidate what you've learned instead of picking up entirely new topics.
Q5: Is there negative marking in CLAT?
Answer: Yes, for every wrong answer, 0.25 marks are deducted. So, avoid wild guessing.
Remember, exams are not just about knowledge but also about strategy and calmness under pressure. Give it your best shot, and success might just be around the corner. All the best for your CLAT!
For more informative blogs on CLAT 2024 preparation, Click Here!