By I Sep 20, 2023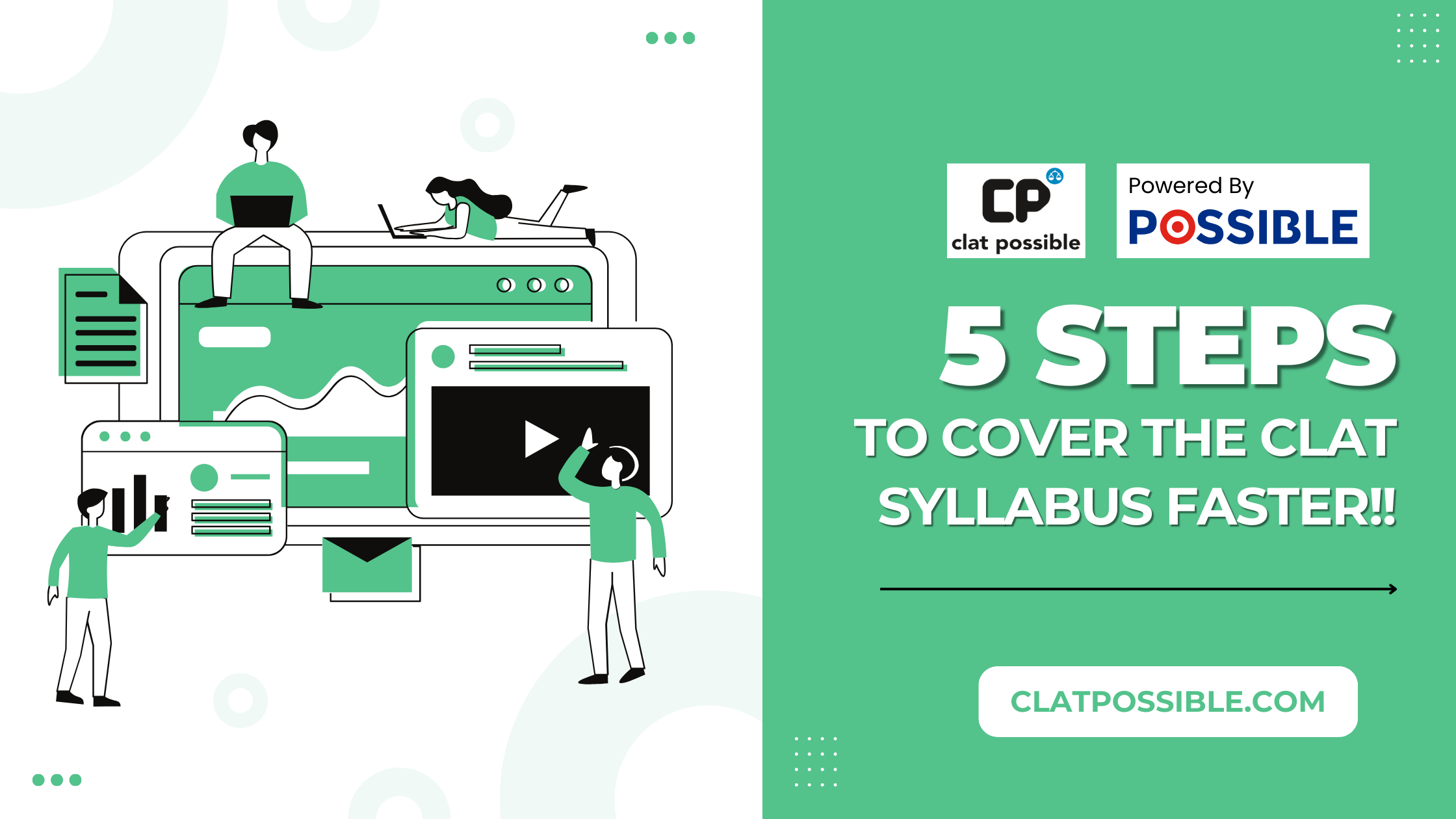 The Common Law Admission Test (CLAT) stands as the gateway to some of India's premier law schools. With its vast syllabus and the weight of competition, it's understandable for aspirants to feel overwhelmed. But what if we told you that you could cover the CLAT syllabus faster and more efficiently? Yes, it's possible with a strategic approach. In this detailed guide, we'll explore five actionable steps that will speed up your preparation without compromising the quality of your learning.
1. Understand the Exam Pattern and Syllabus:
Know What to Expect:
Before diving into the syllabus, it's crucial to familiarize yourself with the CLAT exam pattern. The test assesses candidates on subjects like English, Current Affairs, Legal Reasoning, Logical Reasoning, and Quantitative Techniques.
Break it Down:
Once you have an overview of the subjects, break down the syllabus topic-wise. This will give you a clearer picture of the content you need to cover and make the vast syllabus seem more manageable.
2. Prioritize and Plan:
Assess Your Strengths and Weaknesses:
Everybody has different strengths and areas of improvement. Maybe you're good at Logical Reasoning but find Legal Aptitude challenging. Make an honest assessment.
Allocate Time Smartly:
Based on your strengths and weaknesses, allocate time to each subject. Dedicate more time to areas you find challenging and lesser time to those you're confident about.
Stick to a Study Schedule:
Creating a study schedule is essential. Plan your day, week, and month. Ensure you have slots for revision, breaks, and even some leisure time.
3. Use the Right Study Material:
Quality over Quantity:
Instead of hoarding multiple reference books, stick to a few authoritative sources. This reduces confusion and ensures consistency in your preparation.
Stay Updated with Current Affairs:
For the Current Affairs section, regularly read newspapers, especially the legal and national/international news sections. Online platforms like 'Live Law' or 'Bar & Bench' can be helpful.
Online Resources and Apps:
Leverage the power of digital learning. There are various apps and websites dedicated to CLAT preparations, offering quizzes, mock tests, and current affairs updates.
4. Adopt Active Learning Techniques:
Mind Maps and Flashcards:
Instead of passive reading, create mind maps or flashcards, especially for Legal Maxims, Important Articles, or Legal Terms. This enhances memory retention.
Teach Someone:
The Feynman Technique suggests that teaching someone else is a great way to learn. Discuss concepts with peers or try explaining them to someone unfamiliar with the topic.
Practice Regularly:
Especially for sections like Logical Reasoning and Quantitative Techniques, regular practice is the key. The more you solve, the faster and more accurate you become.
5. Regular Assessment and Revision:
Take Mock Tests:
Mock tests are a blessing in disguise. They not only familiarize you with the actual exam pattern but also highlight your weak areas.
Analyze Your Performance:
Post every mock test, assess your performance. Understand where you went wrong and why. This continuous feedback loop ensures steady improvement.
Schedule Regular Revisions:
It's easy to forget what you've learned if you don't revise. Dedicate specific days in your schedule for revision. This ensures that the information stays fresh in your mind.
In Conclusion
Accelerating your CLAT preparation doesn't mean cutting corners; it's about being smart, organized, and efficient. With these five steps, you're not only covering the syllabus faster but also ensuring that your preparation is thorough and effective. Remember, CLAT is as much about strategy as it is about knowledge. Plan well, stay dedicated, and success will surely be yours. Best of luck, future law enthusiasts!
FAQs on CLAT Preparation
1. What is the CLAT?
Answer: CLAT, or Common Law Admission Test, is an all-India entrance examination conducted by the National Law Universities (NLUs) for admissions to undergraduate and postgraduate law programs.
2. How is the CLAT exam structured?
Answer: The CLAT exam for undergraduate programs assesses candidates on subjects like English, Current Affairs (including General Knowledge), Legal Reasoning, Logical Reasoning, and Quantitative Techniques.
3. How long is the CLAT exam?
Answer: The CLAT exam for undergraduate courses is 2 hours long, consisting of 150 multiple-choice questions.
4. Are there any negative marks for wrong answers in CLAT?
Answer: Yes, for every incorrect answer, 0.25 marks will be deducted.
5. How often should I take mock tests?
Answer: Ideally, you should start with a mock test once a week and gradually increase the frequency as the exam date approaches. This helps in regular assessment and time management.
6. Which newspapers are best for CLAT current affairs preparation?
Answer: Newspapers like The Hindu, The Indian Express, and The Times of India are good sources. It's essential to focus on national, international, and legal news.
7. Is coaching necessary for CLAT preparation?
Answer: While coaching can provide structured guidance and resources, many candidates have cleared CLAT with self-study. It depends on individual preferences and needs.
8. How should I prepare for the Legal Reasoning section?
Answer: Focus on understanding legal principles and applying them to given situations. Practice with diverse scenarios and stay updated with landmark judgments and basic legal terminology.
9. Can I appear for CLAT after 12th?
Answer: Yes, you can appear for the undergraduate CLAT exam right after your 12th standard, provided you meet the eligibility criteria in terms of marks.
10. How many times can I attempt the CLAT?
Answer: As of the last update, there is no age limit or cap on the number of times you can appear for CLAT. However, always check the latest guidelines before applying.
I hope these FAQs provide clarity for anyone venturing into the world of CLAT preparations. It's always beneficial to be well-informed and address any potential questions upfront.
For more informative blogs on CLAT 2024 preparation, Click Here!