By I Oct 09, 2023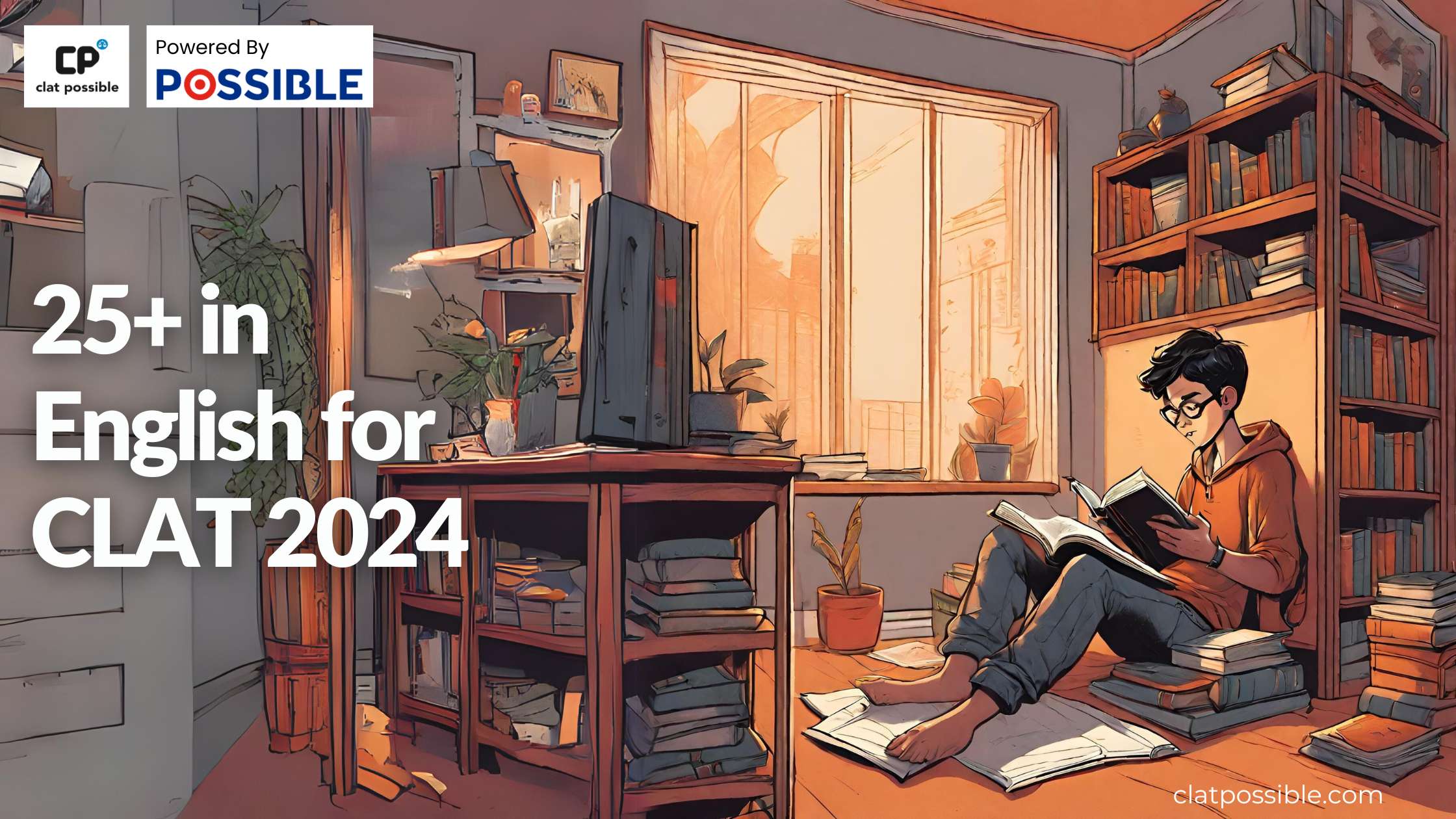 Introduction
Securing a score of 25+ in the English section of the Common Law Admission Test (CLAT) 2024 can be a pivotal point in enhancing your overall score in the examination. Given the criticality of English in the CLAT, meticulous planning, and strategic preparation are non-negotiable. This blog offers you a reservoir of valuable tips and insights to pave your way towards achieving this target.
Why is English Important in CLAT?
With the latest pattern presenting 450-word passages followed by 4-5 questions from historically or contemporarily significant non-fiction and fiction works, and comprising approximately 20% of the CLAT question paper, English demands your undivided attention and dedicated practice. Aiming for a score of 25+ in English is not only ambitious but also strategically sound.
Key Topics to Master
Sentence Correction: Understanding and rectifying errors.
Error Detection: Identifying mistakes in sentences.
Para Jumbles/Sentence Rearrangement: Establishing logical coherence in paragraphs.
Fill in the Blanks & Cloze Test: Utilizing vocabulary and grammar knowledge.
Idioms and Phrases: Grasping non-literal expressions.
Comprehension-Based Questions: Analyzing and answering passage-based questions.
Foreign Language Words: Understanding and utilizing non-English words used in English text.
Spelling Check: Identifying the correct spelling.
Synonyms and Antonyms: Recognizing and using similar and opposite words.
Strategies for Scoring 25+
1. Mind the Details in Comprehension
Active Reading: Engage with the text, highlight key points, and note essential details.
Inference Making: Understand implied meanings and subtle clues.
Time Allocation: Efficiently distribute time for comprehensive reading and answering.
2. Strengthen Grammar & Vocabulary
Reading Habits: Diversify your reading material - include novels, articles, and newspapers.
Word Learning: Make flashcards, use a dictionary, and employ new words in conversations.
3. Comprehension Practice
Active Engagement: Utilize annotation techniques and engage with text actively.
Understanding Main Ideas: Identify and understand the primary ideas, themes, and tones.
4. Avoid Reading Fatigue
Sensible Breaks: Take breaks between study sessions to avoid mental fatigue.
Build Reading Stamina: Gradually increase reading lengths to build endurance.
5. Navigate Through Traps in Comprehension
Understand Core Ideas: Focus on the central points and avoid distracting details.
Avoid Overthinking: Don't get stuck on a single question; maintain a steady pace.
6. Always be Examination Ready
Expect the Unexpected: Be adaptable to unexpected questions and formats.
Maintain Confidence: Trust your preparation and remain calm under pressure.
7. Mindful Reading Techniques
Focused Engagement: Maintain a concentrated reading environment and practice focusing on details.
Critical Analysis: Engage critically with the text and analyze various perspectives.
8. Boost Reading and Answering Speed
Timed Practices: Undertake timed quizzes and mock tests.
Optimized Reading: Focus on enhancing reading speed without compromising comprehension.
How to Attempt English Questions?
Understand Main Ideas: Identify central ideas and themes.
Analyze: Utilize the "who, why, what, where" analysis.
Stay Attentive: Ensure you grasp the nuances and details of the passage.
Conclusion
While English may present its challenges, systematic preparation, and strategic practice can elevate your scores. Pay attention to detail, focus on comprehension, build your vocabulary, and optimize your reading speed. Keep practicing with a positive mindset and keep the tips and strategies mentioned here in mind, and scoring 25+ in the English section of CLAT 2024 will be a feasible target!
Frequently Asked Questions (FAQs)
Q1: How much weightage does the English section hold in the CLAT exam?
A1: The English section typically comprises 20% of the CLAT question paper, making it a crucial section to master for aspirants aiming for a robust overall score.
Q2: How can I improve my vocabulary for CLAT 2024?
A2: Enhancing vocabulary involves diversified reading, utilizing flashcards for new words, employing a dictionary and thesaurus, and incorporating new words into your daily conversations and writings.
Q3: How to manage time effectively during the exam for the English section?
A3: Effective time management involves strategic time allocation, ensuring sufficient time for comprehension and answering questions. Practicing with timed mock tests and quizzes can also help optimize your speed and efficiency.
Q4: Is it advisable to guess answers if unsure during the CLAT exam?
A4: While an educated guess can be beneficial if you're truly unsure, it's imperative to be mindful of the negative marking scheme in the CLAT exam. Thus, guessing should be minimal and strategic.
For more informative blogs on CLAT 2024 preparation, Click Here!