By I Aug 11, 2023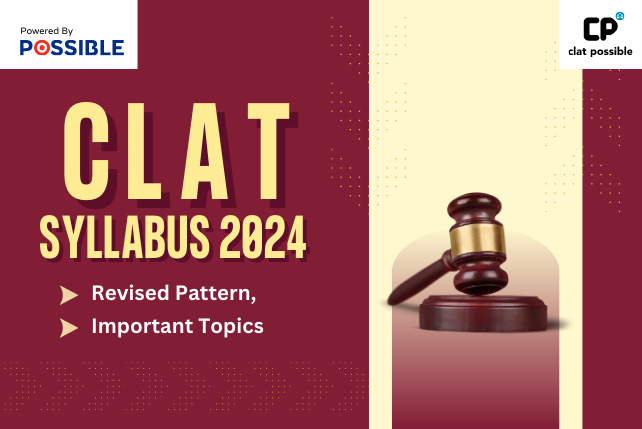 The Common Law Admission Test (CLAT) is a prestigious national-level entrance examination that opens doors to undergraduate (UG) and postgraduate (PG) law courses across 22 National Law Universities (NLUs) and various other esteemed law institutions. As the online application process for CLAT 2024 is underway, it is imperative for aspiring candidates to familiarize themselves with the updated exam pattern and syllabus to devise an effective preparation strategy.
CLAT 2024 Exam Pattern for UG Course
In the revised CLAT 2024 Exam Pattern for UG courses, there will be 120 questions instead of the previous 150. The syllabus, however, remains unchanged. The exam will be conducted as a 2-hour test, featuring multiple-choice questions (MCQs) with one mark awarded for each correct answer. A negative marking of 0.25 marks is applicable for every wrong response.
UG Course Syllabus for CLAT 2024
The CLAT UG syllabus for 2024 covers five key sections: English language, Current Affairs including General Knowledge, Legal Reasoning, Logical Reasoning, and Quantitative Techniques. The difficulty level of each section is as follows:
English Language: 12th standard
Current Affairs including General Knowledge: 12th standard
Legal Reasoning: 12th standard
Logical Reasoning: 12th standard
Quantitative Techniques: 10th standard
Subject-wise Weightage for CLAT UG 2024
The distribution of subjects and their respective weightage in the CLAT UG 2024 syllabus is as follows:
English Language: 20%
Current Affairs, including General Knowledge: 25%
Legal Reasoning: 25%
Logical Reasoning: 20%
Quantitative Techniques: 10%
Detailed Syllabus for CLAT UG 2024
English Language The English Language section will include passages from contemporary or historically significant fiction and non-fiction writings. Each passage will be followed by questions testing reading comprehension, inferences, summarization, arguments, viewpoints, and meanings of words and phrases.
Current Affairs and General Knowledge This section will comprise passages from news sources and non-fiction writing, testing candidates' awareness of main events, arts and culture, national and international affairs, and historical events.
Legal Reasoning Candidates will encounter passages related to legal matters, public policy questions, or moral philosophical inquiries. Questions will assess their ability to identify rules, infer principles, and apply them to given scenarios.
Logical Reasoning The Logical Reasoning section will consist of short passages, testing candidates' ability to identify arguments, premises, conclusions, reasoning, inferences, relationships, analogies, contradictions, equivalence, and the effectiveness of arguments.
Quantitative Techniques This section will include short sets of facts or propositions, graphs, or other numerical representations followed by questions. Topics cover algebra, ratios and proportions, mensuration, statistics, pie charts, bar graphs, line graphs, and table charts.
CLAT PG 2024 Syllabus
For postgraduate candidates, CLAT PG 2024 will be a 2-hour exam with 120 marks, featuring both multiple-choice questions and subjective questions.
PG Course Syllabus for CLAT 2024
The CLAT PG syllabus emphasizes comprehension abilities and includes questions from the following mandatory subjects of the UG program:
Constitutional Law
Jurisprudence
Administrative Law
Law of Contracts
Torts
Family Law
Criminal Law
Property Law
Company Law
Public International Law
Tax Law
Environmental Law
Labour & Industrial Law
To excel in the PG CLAT 2024, candidates must engage with legal decisions, statutes, and regulations, showcasing their reading comprehension, awareness, summarization, and understanding of various fields of law.
As the CLAT 2024 application process is ongoing, it's crucial for aspirants to delve into this comprehensive syllabus and tailor their preparation accordingly. This knowledge of the exam pattern and detailed syllabus will undoubtedly empower candidates to formulate a winning strategy for success in this coveted law entrance examination.
For more informative blogs on Clat 2024, Click Here!