By I Sep 07, 2023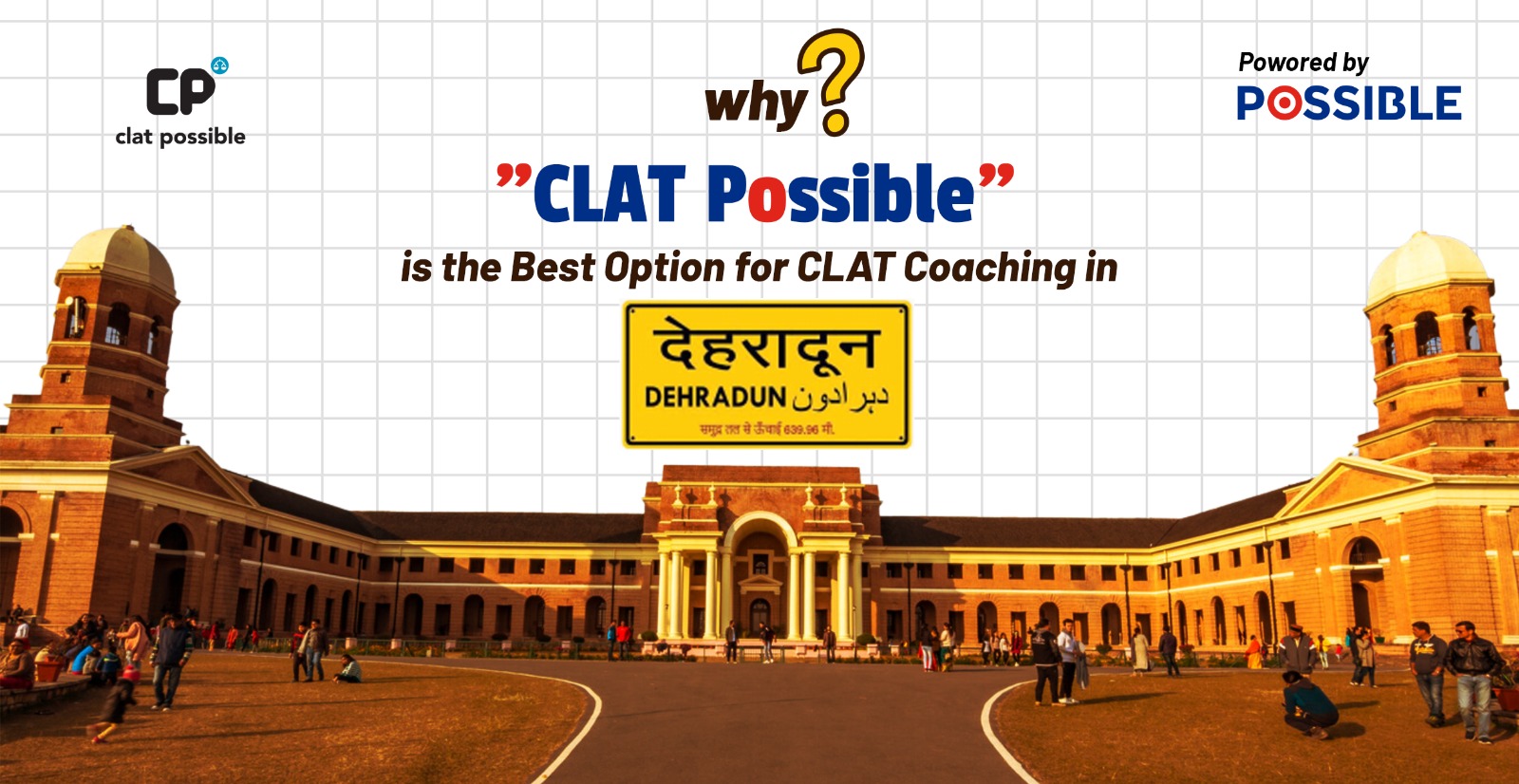 When it comes to preparing for the prestigious Common Law Admission Test (CLAT), students seek the best coaching centers that can guide them to success. Among the numerous coaching institutes spread across India, one name stands out in Dehradun - 
CLAT Possible
. If you're a CLAT aspirant in Dehradun, here's why choosing CLAT Possible can be your ticket to a top-tier National Law University.
---
1. Experienced Faculty:
 One of the key features of CLAT Possible is its team of dedicated and experienced faculty members. These mentors have years of experience in the legal field, and many are alumni of premier law schools in India. Their insights and first-hand experience with the CLAT pattern give students a unique advantage.
---
2. Comprehensive Study Material:
 CLAT Possible offers exhaustive study material that covers every aspect of the CLAT syllabus. Regular updates ensure that the material is in line with the latest exam patterns and trends. With mock tests, practice papers, and reference notes, students have a reservoir of resources to tap into.
---
3. Personalized Attention:
 Unlike many coaching centers where students often feel lost in the crowd, CLAT Possible boasts of smaller batch sizes, ensuring individual attention. This approach ensures that every student's strengths are amplified, and their weaknesses are addressed.
---
4. Regular Assessments and Feedback:
 Regular tests, both topic-wise and full-length mocks, help students gauge their preparation levels. But what sets CLAT Possible apart is the detailed feedback system. After each test, students receive personalized feedback, helping them refine their strategies and understand areas of improvement.
---
5. Strategic Location:
 Situated in the heart of Dehradun, CLAT Possible is easily accessible to students from all parts of the city. The calm, serene environment of Dehradun also provides an ideal atmosphere for focused study, away from the hustle and bustle of metros.
---
6. Success Stories:
 The consistent track record of CLAT Possible speaks for itself. Every year, a significant number of its students make it to the top National Law Universities. The success stories and testimonials are a testament to the institute's commitment to excellence.
---
7. Comprehensive Courses:
 Whether you're a dropper, a Class 12th student, or someone starting early, CLAT Possible has a course tailored for you. Their flexible courses cater to the diverse needs of their students, making it a versatile choice.
---
8. Technologically Advanced Methods:
 Staying abreast with technology, CLAT Possible incorporates advanced teaching methods, like interactive online classes, webinars, and a dedicated app. This ensures that students have the flexibility to learn anytime, anywhere.
---
9. Workshops and Guest Lectures:
 Frequent workshops, guest lectures, and seminars provide students exposure to various facets of the legal world. Interacting with industry experts, legal professionals, and CLAT toppers gives students a holistic view of their future in law.
---
10. Competitive Fee Structure:
 Despite offering top-notch facilities and resources, CLAT Possible maintains a reasonable fee structure, ensuring that quality education is accessible to all.
---
In conclusion, if you're a CLAT aspirant in Dehradun, CLAT Possible should be your go-to choice. With its impeccable track record, dedicated faculty, and state-of-the-art resources, it promises not just coaching but a comprehensive grooming for your law journey ahead.
Turn your CLAT dream into reality with CLAT Possible!
For more informative blogs on Clat 2024,
Click Here!