By I Aug 22, 2023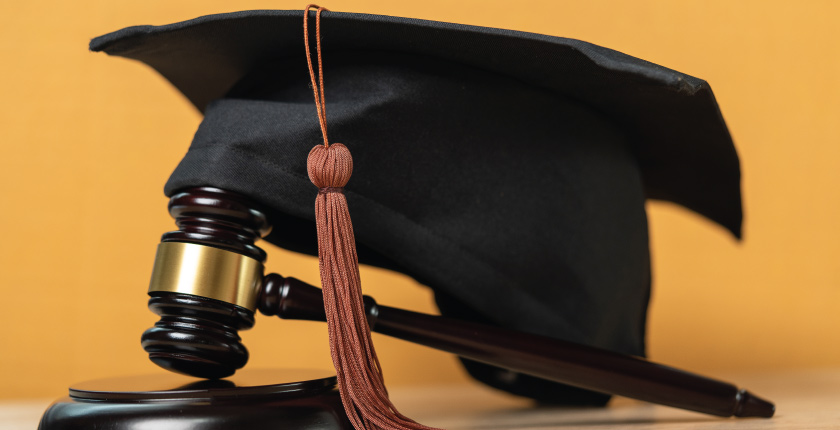 Law as a subject is of national significance to any country. Especially in a country like India, with one of the most extensive and most detailed constitutions, derived and influenced by constitutions around the world, studying law is a challenging task. It takes five to six years to finish an undergraduate law course (LLB) from the top colleges in India and then two to three years for a master's/postgraduate degree (LLM).
Admission to LLM courses is usually based on national exams like CLAT. The top-ranked law schools, according to the law schools ranking in India, come with their share of advantages like esteemed and senior alumni, experienced faculty, intensive training in the form of moot courts, and inter-college competitions that provide hands-on law practices. Hence the top law colleges in India provide an edge in terms of placements and future law careers, and these are the primary choices for CLAT aspirants seeking admission to LLB courses.
However, when it comes to law school ranking in India, it is a hotly debated topic. Therefore, individuals who wish to study law must have a precise list of the top law colleges in India as per the law schools ranking in India with all details. There are approximately 1200+ law universities in India that impart high-quality education and excellent placement opportunities in the area of the legal market. Top-ranked law colleges in India allow students to study law in different specialisations like Corporate Law, Banking and Finance, Constitutional Law, Human Rights, Environmental Law, International Business Law, Geo Politics, and more.
Ranking of Top Law Schools in India
Here are the top 5 law schools according to the law schools in India ranking
RANK 1: National Law School of India University, Bangalore
NLSIU has ranked top in the law school ranking in India. The school imparts a five-year Bachelor of Arts + Bachelor of Laws (BA LLB-Hons), two-year Master of Laws(LLM), two-year Master of Public Policy (MPP), and three-year Doctorate of Law (LLD). Individuals are admitted after a good score secured in Common Law Admission Test (CLAT) conducted by 17 National Law Universities across India.
RANK 2: National Academy of Legal Studies and Research University, Hyderabad
One of the most reputed Law Schools, NALSAR ranked second amongst the top law colleges in the law school ranking in India. The institute offers a three-year Bachelor of Law (LLB), a five-year Bachelor of Arts + Bachelor of Laws (BA LLB-Hons), and a two-year Master of Law (LLM). Further, the National level Entrance Examination Common Law Admission Test (CLAT) is conducted for admission to the five-year Integrated BA/BSc/BCom + LLB course.
RANK 3: National Law University, Delhi
NLUD is one of the renowned law universities in India. NLUD incorporates 26 exclusive research centres. It imparts undergraduate and postgraduate level courses- The five-year BA LL B, two-year LLM, two-year PhD, and a one-year Post Graduate Diploma.
RANK 4: The WB National University of Juridical Sciences, Kolkata
Ranked 4th in the law university rankings in India. Besides, this institute's students have brought it to the world map with their outstanding performances and achievements. NUJS imparts a five-year Bachelor of Arts + Bachelor of Laws (BA LLB-Hons), five-year Bachelor of Science + Bachelor of Laws (B.Sc.LLB-Hons), a one-year Master of Laws (LLM), two-year Master of Business Law (MBL), etc. Moreover, to get admission to NUJS, individuals have to clear the Common Law Admission Test (CLAT).
RANK 5: National Law Institute University, Jodhpur
NLU has been ranked 5th in the law schools ranking in India. This higher studies institution imparts five-year Integrated Courses of BA LLB-Hons, B.Sc LLB-Hons, and BBA LLB-Hons. It also offers one-year LLM in diverse streams. Moreover, admission to BA LLB, BSc LLB, and BCom LLB courses in NLU can be sought by clearing Common Law Admission Test (CLAT).
How Does Clat Possible Help You Get into the Top Ranked Law Universities in India?
Clat Possible is a team of devoted professionals from top corporate backgrounds with an extensive academic bent of mind. It has been marked as the most successful law test preparation institute in India. With almost 10% of all NLU students from
Clat Possible
, its alumni stay involved with the institute through law school and beyond. The significant highlights of Clat Possible include exhaustive materials, regular GK updates, the highest number of mocks, monthly digests, and detailed information about several law schools, including interactions with NLU students and alumni. The institute understands that every student is unique and that every situation is different. Therefore the mentors at CP know exactly how to deal with every condition because "personal care" is not just a phrase here – it's a lifestyle! Therefore, if students have doubts, they can directly meet the mentors, who are the same people on the brochure, unlike many other institutes!
Make It Possible with Clat Possible!
Every year more and more students are planning to enter the top law colleges in India as these institutes help students to grow and develop skills that will be beneficial. Any student who is studying law is automatically respected in the professional world. Additionally, a law degree from a top-rated college in law school ranking in India makes you feel empowered every day. Therefore, legal professions enable students to build confidence, and Clat Possible will help you achieve your goals