By I Aug 08, 2023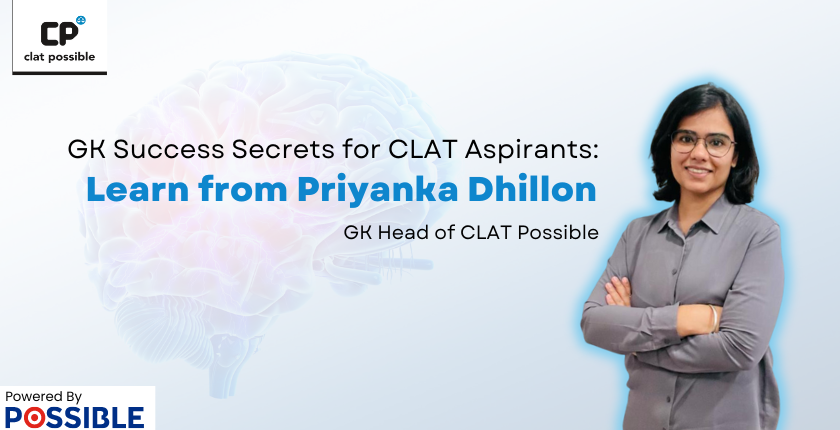 Table of Contents
1 Introduction
2 Understanding the Importance of GK in CLAT
3 Priyanka Dhillon: The Guru of GK for CLAT
4 Unveiling the Clat 2024 Syllabus
5 Cracking the Code: How to Prepare for GK in CLAT
6 Current Affairs: A Cornerstone for CLAT Aspirants
7 GK Success Tips from the Expert
8 Navigating the Ocean of GK Resources
9 Overcoming Challenges in GK Preparation
10 Importance of Revision for GK in CLAT
11 Mastering General Knowledge: The Final Touch
12 FAQs: Your Top Questions Answered
12.1 How to improve my GK knowledge for CLAT?
12.2 Is it essential to follow daily news for GK preparation?
12.3 Can I rely solely on online resources for GK?
12.4 What are the best ways to remember GK facts?
12.5 How does GK contribute to my CLAT score?
Introduction Are you a CLAT aspirant seeking to unlock the secrets of mastering General Knowledge? Look no further! In this article, we'll delve into the world of CLAT 2024 and explore the essential tips and tricks to excel in the GK section. Whether you are a seasoned CLAT coaching student or just beginning your preparation journey, join us as we learn from the expertise of Priyanka Dhillon, the esteemed GK Head of CLAT Possible.
Understanding the Importance of GK in CLAT General Knowledge forms a crucial component of the CLAT examination. It is not just about knowing facts but demonstrating your awareness and analytical skills. GK serves as a stepping stone to comprehend complex legal and constitutional issues, making it indispensable for law aspirants. Let's understand the significance of GK in CLAT and how it can influence your overall score.
Priyanka Dhillon: The Guru of GK for CLAT Meet Priyanka Dhillon, a prominent name in the world of CLAT coaching. With years of experience and a commendable track record of mentoring successful candidates, Priyanka has become the go-to expert for GK preparation. Her insights and teaching methodologies have transformed the approach towards tackling GK in CLAT. Let's learn from the best and uncover her success secrets.
Unveiling the Clat 2024 Syllabus To conquer any exam, including CLAT 2024, a clear understanding of the syllabus is paramount. In this section, we'll take a detailed look at the GK syllabus and explore the topics that demand your attention. From history to current affairs, we'll guide you through the diverse subjects that constitute the GK section.
Cracking the Code: How to Prepare for GK in CLAT Preparing for GK in CLAT requires a strategic approach. With the right techniques and study plan, you can enhance your knowledge and retention abilities. We'll share practical tips to crack the GK code, from organizing your study schedule to making the most of available resources.
Current Affairs: A Cornerstone for CLAT Aspirants In the fast-paced world we live in, staying updated with current affairs is essential for every CLAT aspirant. The GK section heavily relies on your awareness of recent events and their impact on society. We'll discuss how to stay in the loop with current affairs without feeling overwhelmed.
GK Success Tips from the Expert Priyanka Dhillon's experience and expertise have unveiled some remarkable success tips for GK preparation. In this section, we'll delve into her pearls of wisdom, understanding her approach towards teaching, and how her techniques can become your key to GK success.
Navigating the Ocean of GK Resources The internet is flooded with GK resources, and it's easy to get lost in the sea of information. We'll help you navigate through the ocean of resources, guiding you towards the most reliable and effective study materials for GK in CLAT.
Overcoming Challenges in GK Preparation Every CLAT aspirant faces challenges during their preparation journey. We'll address common roadblocks and obstacles that students encounter while studying for GK. With the right mindset and approach, you can overcome these hurdles and perform your best in the examination.
Importance of Revision for GK in CLAT Revision is the key to retaining information effectively. In this section, we'll emphasize the importance of regular revision and provide practical tips to reinforce your GK knowledge for CLAT 2024.
Mastering General Knowledge: The Final Touch As the CLAT examination approaches, it's time to master the art of General Knowledge. We'll discuss the final touchpoints to ensure you're fully prepared to ace the GK section and boost your overall CLAT score.
FAQs: Your Top Questions Answered
How to improve my GK knowledge for CLAT? Improving GK knowledge for CLAT requires consistent effort and a structured study plan. Start by identifying your weak areas and focus on them. Read newspapers, watch news channels, and engage in discussions to enhance your awareness. Regularly solve GK quizzes and mock tests to gauge your progress.
Is it essential to follow daily news for GK preparation? Yes, following daily news is crucial for GK preparation. It helps you stay updated with current affairs, national and international events, and other relevant information. Set aside time daily to read newspapers, watch news bulletins, and browse reliable online news sources.
Can I rely solely on online resources for GK? While online resources are valuable, it's essential to supplement them with standard GK books and study materials. A combination of online and offline resources ensures comprehensive coverage of the GK syllabus. Utilize reputed websites, mobile apps, and YouTube channels alongside recommended GK books.
What are the best ways to remember GK facts? To remember GK facts effectively, create mnemonic devices, connect them to real-life examples, and revise regularly. Visual aids, flashcards, and mind maps can also assist in retaining information. Make a habit of summarizing important facts in your own words to reinforce memory.
How does GK contribute to my CLAT score? GK plays a significant role in your CLAT score. Scoring well in GK can boost your overall rank and open doors to prestigious law schools. Additionally, a good GK score reflects your awareness and analytical abilities, which are vital for a successful legal career.
Conclusion Mastering General Knowledge is the gateway to success in the CLAT examination. By learning from the expertise of Priyanka Dhillon and adopting effective preparation strategies, you can strengthen your GK knowledge, stay updated with current affairs, and maximize your chances of cracking CLAT 2024. Embrace the journey of learning, and let your passion for the law drive you towards excellence. Remember, with dedication and perseverance, you can conquer any challenge that comes your way!
For informative blogs on Clat 2024 click here!