By I Oct 21, 2023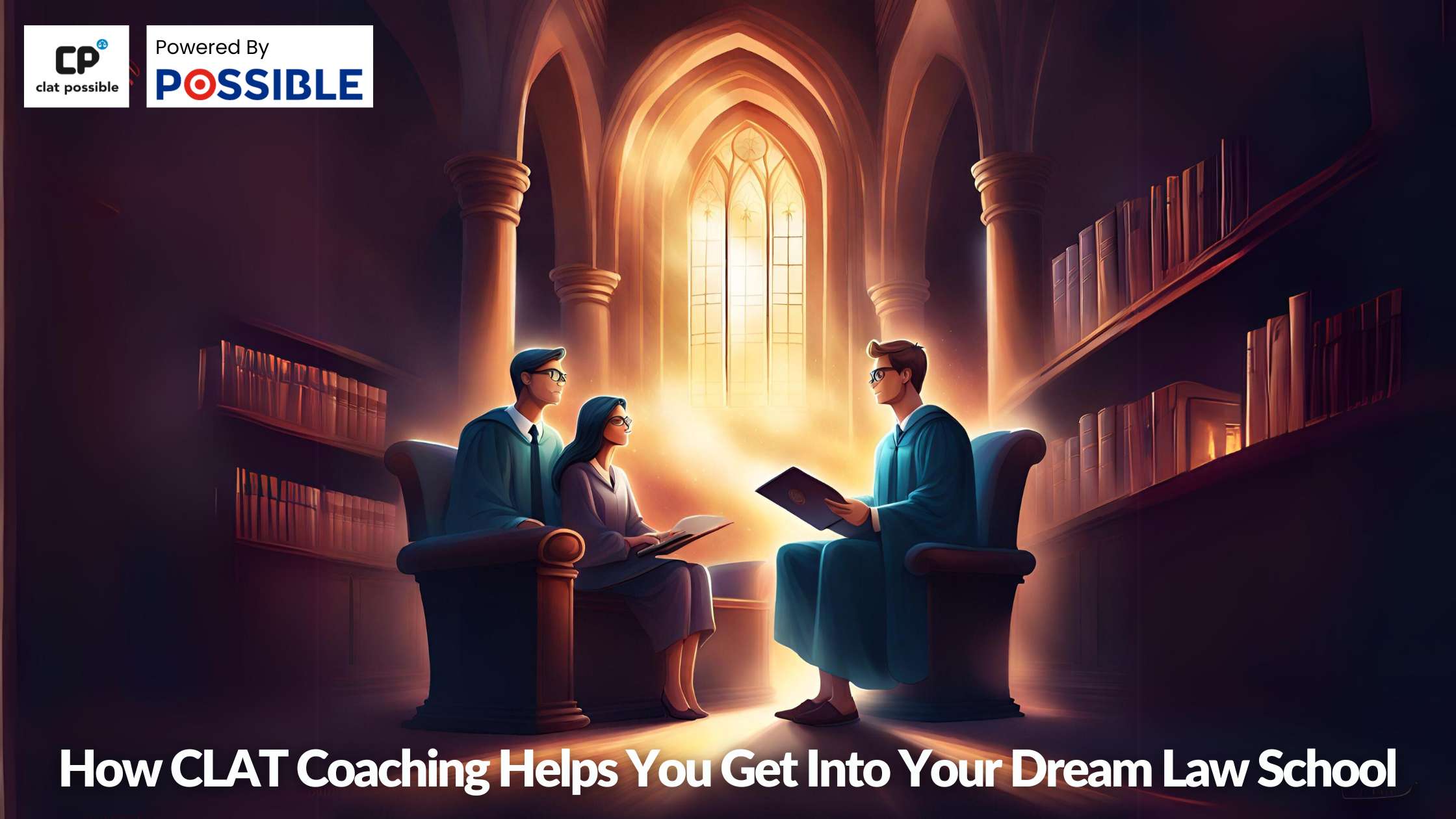 The pursuit of a legal career often starts with a single step: cracking the Common Law Admission Test (CLAT). Regarded as the gateway to premier law schools in India, including the National Law Universities (NLUs), CLAT is an exam that determines the trajectory of thousands of legal aspirants every year. Given its critical importance, seeking expert guidance through CLAT coaching has become a popular choice for many. One such leading institute in the CLAT coaching domain is "CLAT Possible". In this blog, we'll delve into the advantages of enrolling in a CLAT coaching program, specifically how "CLAT Possible" can steer you towards your dream law school.
1. Structured Learning Approach:
Customized Curriculum: "CLAT Possible" offers a curriculum specifically tailored for CLAT and other law entrance exams. This ensures that students focus on the most relevant topics and not get overwhelmed.
Study Materials: Their well-researched study materials are regularly updated, containing insights and shortcuts not available in standard textbooks.
2. Experienced Faculty:
Expert Guidance: The faculty at "CLAT Possible" includes seasoned professionals and individuals who have cracked the exam themselves, bringing invaluable insights.
Doubt Clearing Sessions: Regular interactions with these teachers mean instant doubt resolution.
3. Regular Mock Tests and Assessments:
Simulated Exam Environment: "CLAT Possible" conducts regular mock tests that mirror the actual exam, helping reduce student anxiety.
Performance Analysis: After each test, detailed feedback is provided, enabling students to hone their strategies.
4. Time Management Skills:
With unique techniques and shortcuts, "CLAT Possible" ensures that students can answer maximum questions within the given time.
5. Peer Interaction:
Healthy Competition: The competitive environment at "CLAT Possible" motivates students to consistently perform their best.
Group Study: Engaging with fellow aspirants leads to deeper understanding and new perspectives.
6. Guidance Beyond the Exam:
"CLAT Possible" provides counseling sessions for selecting the right NLU based on scores, interests, and aspirations.
7. Flexible Learning Modes:
"CLAT Possible" offers both offline and online coaching, ensuring that distance and location are never a barrier to top-notch CLAT preparation.
Conclusion: Getting into a top-tier law school can be a transformative experience. With the right guidance, especially from institutes like "CLAT Possible", this dream is more achievable than ever.
FAQs about CLAT and "CLAT Possible"
What is CLAT? CLAT or Common Law Admission Test is an entrance exam for aspirants seeking admission to undergraduate and postgraduate law courses in India's National Law Universities (NLUs).
Why choose "CLAT Possible" for CLAT preparation? "CLAT Possible" offers a blend of experienced faculty, comprehensive study materials, regular mock tests, and a student-centric approach, making it one of the top choices for CLAT coaching.
Does "CLAT Possible" offer online classes? Yes, "CLAT Possible" provides flexible learning modes, including online classes, ensuring students can prepare from anywhere.
How does "CLAT Possible" help after the CLAT exam? "CLAT Possible" offers post-exam guidance and counseling sessions to help students select the best law schools based on their scores and preferences.
Can I get study materials without enrolling in the classes at "CLAT Possible"? It's best to contact "CLAT Possible" directly regarding this. Generally, their comprehensive study materials are part of their coaching program, but they might have options for purchasing them separately. For more informative blogs on CLAT 2024 preparation, Click Here!