How to Triumphantly Crack CLAT 2024 in the Eleventh Hour: Comprehensive Strategies, Expert Insights, and CLAT Possible's Unwavering Support
By I Oct 18, 2023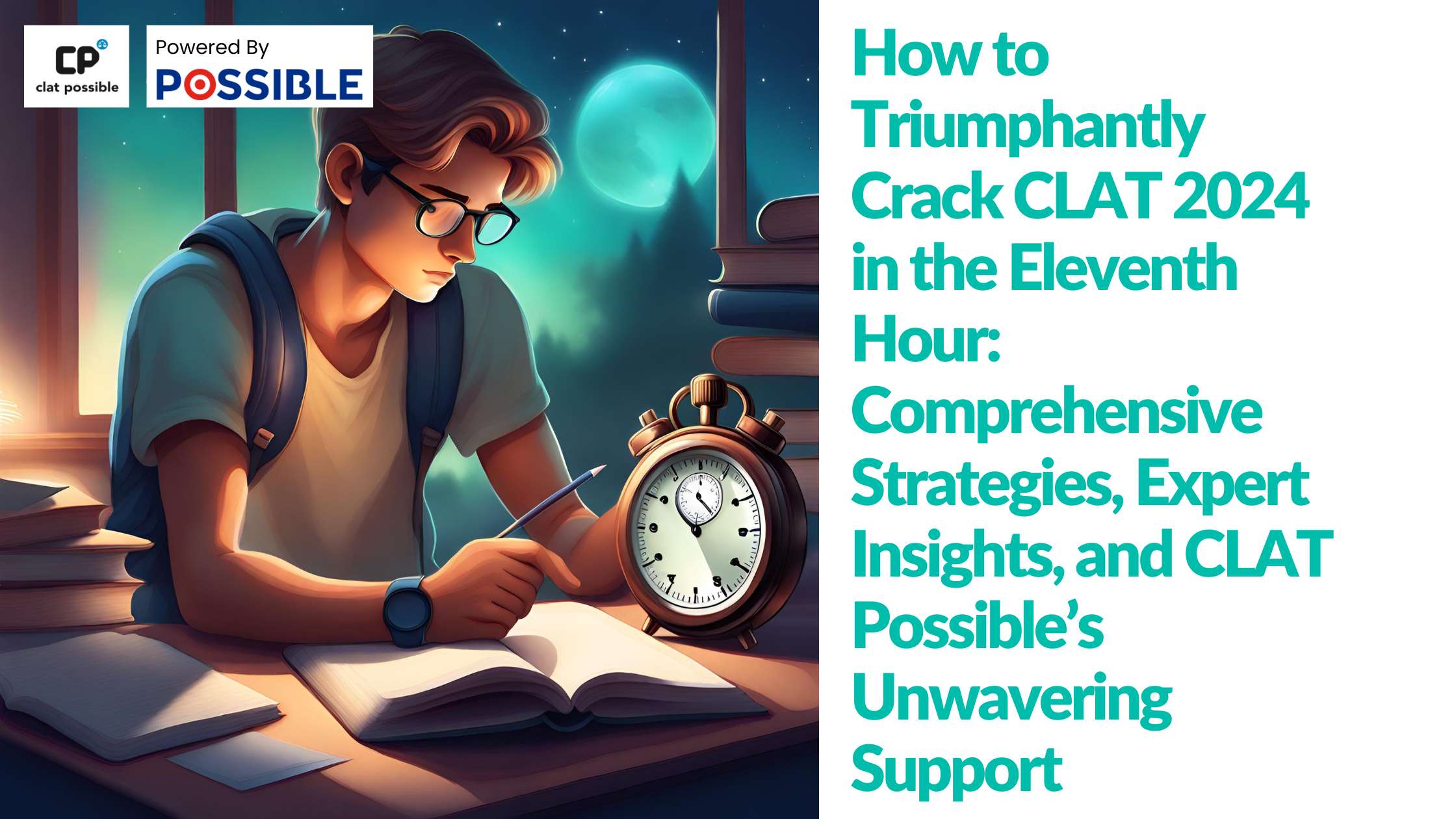 The eminent CLAT 2024 exam is swiftly approaching, casting a looming shadow of anticipation and anxiety for many aspiring law students. While the traditional approach to success has always emphasized long-term meticulous planning, unexpected twists and turns in life can sometimes throw even the best-laid plans off course. If you're among those who suddenly find themselves in a race against time, staring down at a mountainous syllabus with only weeks or even days to go, fret not. With the infusion of precise strategies, undying commitment, and the unparalleled guidance from CLAT Possible's crash courses, achieving a commendable score is still very much within reach.
The Last-Minute CLAT 2024 Blueprint: A Deep Dive Into Maximizing Efficiency and Results
Strategic Prioritization of High-Value Topics: All topics in the CLAT syllabus are not created equal. A detailed analysis of the previous years' papers can offer invaluable insights into the most frequently tested areas. It's crucial to direct your energy towards mastering these topics first.
The Indispensable Role of Mock Tests: Regular and rigorous practice with mock tests not only sharpens your problem-solving skills but also familiarizes you with the exam's format, thereby bolstering your confidence. Post-test analysis provides a clear roadmap of areas that require further refinement.
Revising Effectively and Efficiently: Instead of attempting to devour the entirety of your study material, strategically focus on revising critical concepts, pivotal landmark judgements, and foundational legal terminologies that can make a difference.
Keeping a Finger on the Pulse of Current Affairs: With a significant portion of CLAT dedicated to current affairs, it's imperative to stay updated. Allocate time daily to peruse reputable newspapers and specialized CLAT-focused current affairs platforms.
The CLAT Possible Advantage: Enrolling in specialized crash courses such as the Hammer Mini Series, Hammer IT Express, or Hammer IT Plus can drastically enhance the quality of your preparation. Each course has been meticulously crafted to extract the maximum potential from students in the dwindling days leading up to the exam.
Why CLAT Possible's Crash Courses Stand Head and Shoulders Above the Rest
Precision-Crafted Study Material: With a specific emphasis on last-minute cramming, these courses deliver content that's both concise and impactful, ensuring no essential topic is left untouched.
Guidance from Renowned Mentors: Drawing from their vast reservoir of experience, our educators offer bespoke strategies and insights, having mentored countless students through the intense pressures of eleventh-hour preparation.
Mock Tests Tailored for Excellence: Experience the nuances of the CLAT 2024 pattern firsthand, with meticulously designed mock tests that replicate the actual exam, preparing students for all potential scenarios.
FAQs:
Q1. Is it genuinely feasible to gear up for CLAT at the eleventh hour? A1. While it's undoubtedly challenging, the synthesis of well-chosen strategies, premium study materials, and expert guidance, as provided by CLAT Possible, can turn the tide in favor of dedicated aspirants.
Q2. If I'm truly pressed for time, which crash course should I gravitate towards? A2. For those racing against the clock, the Hammer Mini Series is your go-to. It's sculpted precisely for aspirants seeking rapid yet profound preparation.
Q3. How do the individual crash courses differ in terms of content depth and breadth? A3. Each course has its unique essence. While Hammer IT Plus delves profoundly into each subject, the Hammer Mini Series epitomizes brevity. Hammer IT Express strikes a harmonious balance between the two.
Q4. Post the course's conclusion, will I retain access to the study materials for subsequent revisions? A4. CLAT Possible takes pride in assisting students at every juncture. Thus, aspirants will retain access to course materials even after the course culminates, facilitating seamless revisions.
Conclusion:
Starting early is an adage we're all too familiar with. However, in the realm of competitive exams, it's imperative to remember that it's not just about the hours you put in, but how you utilize those hours. With unyielding determination, strategic methodologies, and the unparalleled guidance from CLAT Possible, the dream of conquering CLAT 2024 is well within grasp. So, brace yourself, dive headfirst, and let's redefine what's possible in the last minute! For more informative blogs on CLAT 2024, Click Here!