Navigating the Maze of Law Entrance Exams Beyond CLAT: A Strategic Approach to Legal Education in India
By I Nov 04, 2023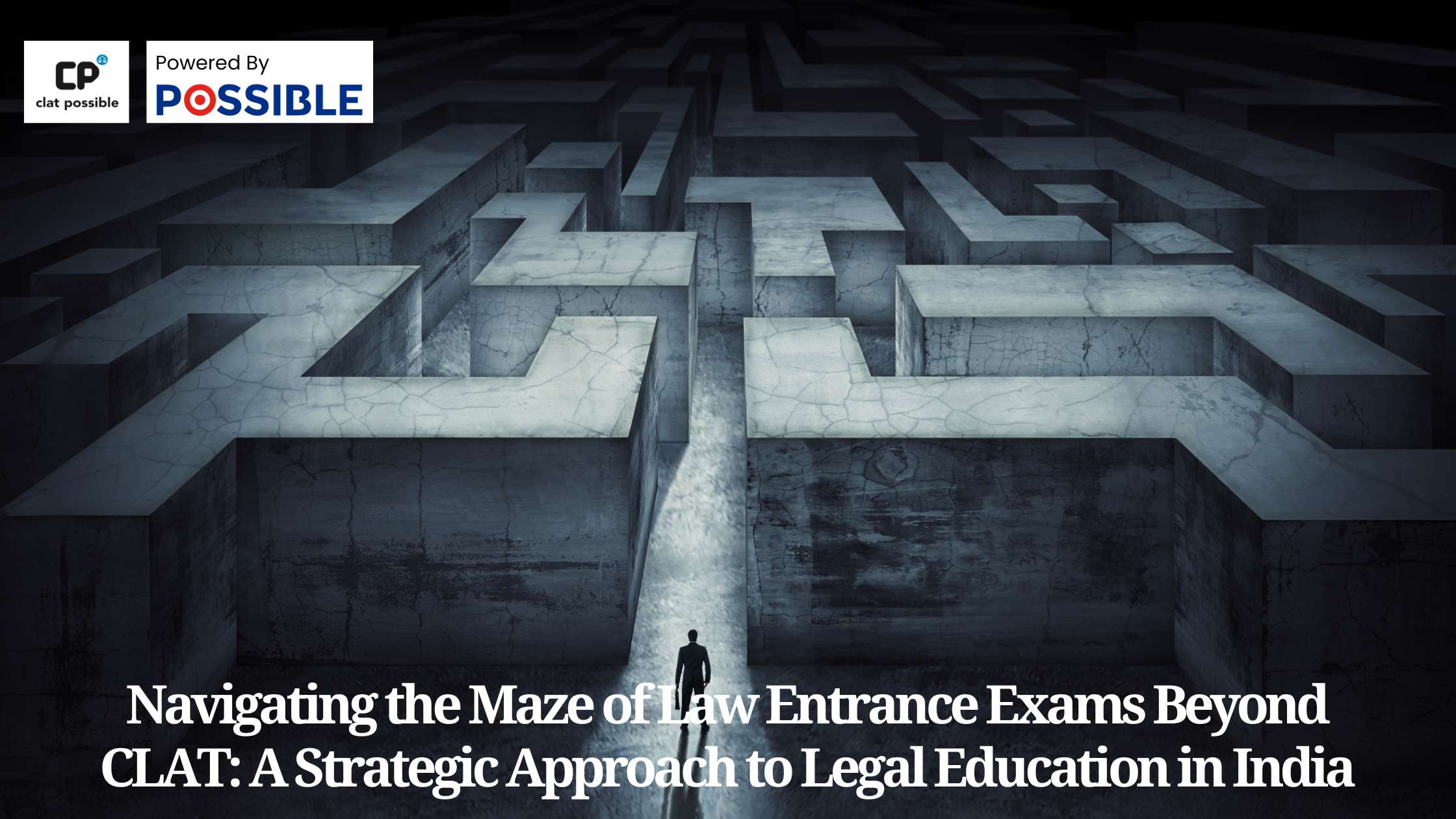 Navigating the law entrance exams in India can be as intricate and complex as the study of law itself. The Common Law Admission Test (CLAT) stands as a towering figure among the law entrance exams in the country, but what happens when you put all your eggs in one basket and things don't go as planned? Diversification is key in investments and equally so in your educational journey. This blog aims to unravel the various law entrance exams you can consider to keep your aspirations soaring high without getting entangled in the web of anxiety and uncertainty.
Embracing Backup Plans: The Unsung Heroes of Law Aspirants
A backup plan in your arsenal is akin to a lifeboat on a ship; you may not hope to use it, but its presence is a reassurance in itself. When the waves of AILET crashed against the shore unceremoniously on May 7th, 2017, the hopes of many were left floundering in doubt. The subsequent CLAT examination a week later became a behemoth of stress. Hence, the wisdom of the aged adage: don't put all your eggs in one basket—or in this case, all your hopes in one exam.
The AILET Experience: A Gateway to NLU Delhi
Firstly, AILET may be notorious for its limited seats, but it is a golden ticket for those aiming for NLU Delhi. Even if NLU Delhi is not your ultimate goal, the experience itself is a valuable foray into the world of competitive law examinations.
SLAT: A Symbiotic Relationship with Excellence
Symbiosis Law Schools, particularly the Pune campus, are not just educational institutions; they are legacy bearers with an alumni network that spans across successful lawyers and law firm partners. Participation in events like the Moot Court Competitions has seen Symbiosis Law School, Hyderabad, emerge victorious, underscoring their academic prowess. If the top NLUs seem out of reach, consider SLAT as a sterling alternative.
MH-CET and the GLC Advantage
The Government Law College (GLC) in Mumbai, with its historic legacy as Asia's oldest law university, presents an unconventional yet fascinating path. The freedom to intern from the very first year due to liberal attendance policies gives GLC students a distinct edge in practical exposure. The trade-off, however, is a campus life that is not as vibrant, given the focus on real-world experience over classroom learning.
LSAT: The Gateway to Global Faculty and Diverse Opportunities
Jindal Global Law School (JGLS) offers an experience that is internationally flavored, with faculty members sourced from across the globe. While the financial consideration is significant, the investment translates into exposure to a world-class educational ecosystem.
Army Institute of Law's Exclusive Gateway
For those from army backgrounds, the Army Institute of Law (AIL) offers a niche but highly esteemed avenue through their Law Entrance Test. Despite its highly competitive nature with limited seats for civilians, it remains a sought-after destination.
Broadening Horizons: Other Noteworthy Mentions
Beyond these notable names, there are other institutions like NIRMA University, which boasts a diligent and aspiring crowd, and GGSIPU, known for its rigorous academic environment. It's essential to delve deeper into these options to ascertain their fit for your legal career ambitions.
Conclusion: Crafting a Multifaceted Approach to Legal Education
In summary, while CLAT might be the sun around which many law aspirants orbit, remember that the solar system has many planets, each with its unique environment and opportunities. Diversifying your exam portfolio not only mitigates risk but also introduces you to a spectrum of learning cultures, teaching methodologies, and ultimately, career paths.
FAQs on Law Entrance Exams Beyond CLAT
Why should I consider law entrance exams other than CLAT?
Considering exams beyond CLAT can provide a safety net and expose you to different examination styles and college cultures. It can also alleviate pressure and anxiety, allowing you to perform better.
How can I prepare for multiple law entrance exams effectively?
Effective preparation involves understanding the different patterns and syllabi of the exams. Creating a study schedule that accommodates the requirements of each test, taking mock exams, and time management are crucial.
What factors should I consider when choosing a law school in India?
Accreditation, faculty expertise, alumni network, placement records, internships opportunities, campus culture, and fee structure are essential factors to consider when selecting a law school.
Is it expensive to study at private law schools like JGLS?
The fee structure of private law schools like JGLS can be higher than public institutions. However, they often provide access to world-class resources and global faculty, which can be a significant return on investment.
Can I pursue a career in law if I don't get into an NLU?
Absolutely. Many successful legal professionals have graduated For more informative blogs on CLAT 2024 preparation, Click Here!