By I Aug 31, 2023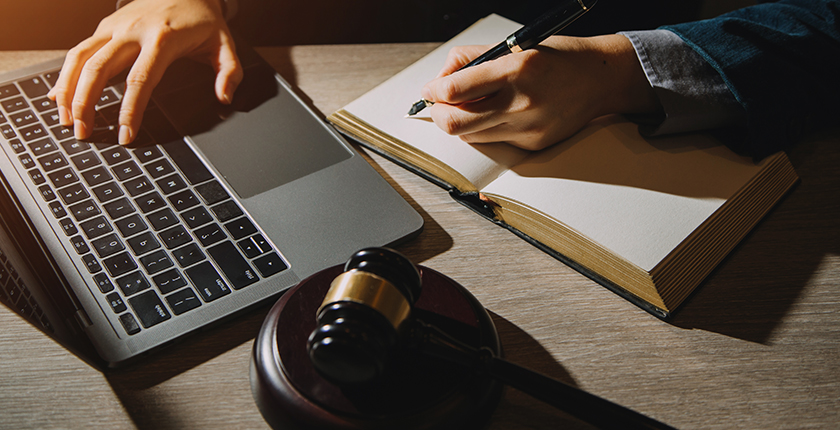 India has observed a significant surge in demand for legal education in the past few years. With the rapid growth of the legal industry, individuals and professionals are progressively looking for convenient and cost-effective ways to obtain legal education and improve their skills. Online law courses in India have emerged as the most sought-after option for such learners. These courses equip students with the convenience, flexibility, and accessibility to prepare for the law entrance exam from the comfort of their homes. 
With reputed institutions now offering different types of online law courses for taking admission to top law institutes in India, students can choose from a range of courses to maximize their chances of getting selected and enhance their career outcomes. This article will answer your various questions related to online law courses in India to assist you in making an informed decision about which law entrance exam preparation institute you should choose.
Can I Study Law Online in India?
p>Yes, you can study law online in India. In recent years, the popularity of online courses for law Entrance exams has been significantly rising. These online law courses equip students with access to top-quality education to crack the CLAT law entrance exam at a lower cost compared to unconventional classroom-based courses. In addition to this, online courses for law entrance exams often provide students with the flexibility to learn at their own pace and convenience.
However, it is vital to choose a reputable online law exam preparation course provider to ensure the quality of education. Before enrolling on an online law course in India, it is recommended to explore and research the institutes read reviews, and get feedback from past students to make an informed decision.
Which Law Course is in Demand?
CLAT is a law entrance exam that is highly in demand these days because of the increasing number of law aspirants in India and the rising number of law institutions. CLAT is one of the most popular entrance exams for admission to various law programmes in India, which is conducted every year by the Consortium of National Law Universities.
A CLAT course prepares aspiring students for the CLAT exam, which is known for the level of difficulty and competitiveness the exam possesses. A good CLAT preparation course, like the online law courses provided by Clat Possible, can equip students with an in-depth understanding of the law exam syllabus and tips & strategies to crack the exam. 
Which Course is Best for Law?
Clat Possible is one of the leading and reputed law preparation coaching institutes that offer top-notch CLAT courses in India. Their online law courses are curated to make law aspirants well-versed with the CLAT exam syllabus and pattern. The institute also equips its students with the right techniques and materials to crack the exam. The online law course in India offered by Clat Possible includes mock tests, study materials, and personalized feedback to assist students in preparing for the exam effectively.
In addition, Clat Possible incorporates a team of experienced faculty members who give personalized attention to each student, discover their strengths and weaknesses and guide them to enhance their strengths and weaknesses. The institute also offers in-class coaching options for students who prefer classroom learning.
Get Ahead in Law with Online Courses at Clat Possible
Clat Possible is India's leading online coaching for CLAT preparation. With the best law mentors possessing vast experience in the law industry, Clat Possible ensures the effectiveness of the classroom programmes. Each faculty member of Clat Possible is drawn from the best in the domain. These faculty have successfully cleared the prestigious law competitive entrance exams with excellent scores and have a deep understanding of what it takes to flourish, making them stand out among others.
The Clat Possible coaching institute also offers online personalized learning to its students by:
Mentoring: Provides a distinct competency to discuss issues around student preparation & personal excellence.
  Doubts: Clat Possible doubts room provides students with the flexibility to ask questions to their mentors anytime from the convenience of their homes.
In addition, Clat Possible offers online law courses based on the new CLAT exam pattern from the significant changes made in CLAT 2020 Exam. CP understands that each learner has a varied learning style, so the institute has amalgamated its classroom implementing multiple teaching and learning aids to ensure effective learning.
In Conclusion
Online law courses in India impart an affordable, flexible, and accessible alternative to traditional law entrance preparation programmes. With the tremendously escalating demand for legal services in India, pursuing an online CLAT preparation course can be a smart and practical choice for students seeking a prospective career in law.