By I Oct 09, 2023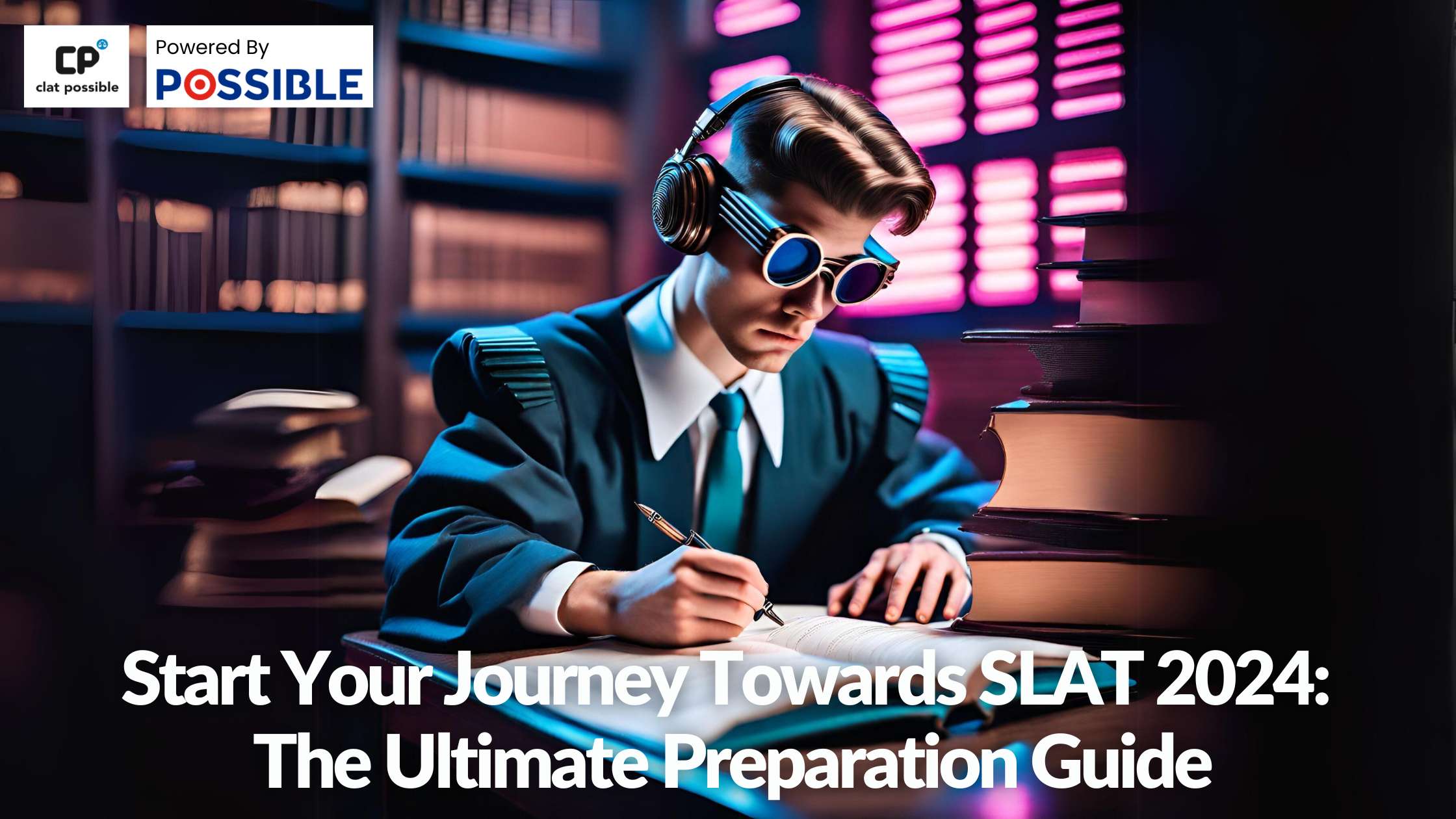 The Symbiosis Law Admission Test (SLAT), pivotal for securing a seat in the Symbiosis Law department, stands as a considerable challenge for law aspirants. While the quest on how to prepare for SLAT frequently circulates among hopeful candidates, this guide simplifies your preparation path, outlining actionable strategies and diving into crucial subject details.
Getting a Head Start in Your SLAT Preparation
Initiating your SLAT preparation a year in advance ensures adequate time for thorough preparation, revisions, mock tests, and strengthening your conceptual foundation. Navigating through the SLAT syllabus while juggling coaching and self-studies often perplexes candidates, and here's a structured approach to streamline your efforts.
Decoding the SLAT 2024 Exam Pattern
Understanding the SLAT exam pattern is fundamental, especially with the Symbiosis International University (SIU) periodically introducing changes. Here's a simplified breakdown:
Legal Reasoning: 12 Questions, 12 Marks
Qualitative Reasoning: 12 Questions, 12 Marks
Quantitative Reasoning: 12 Questions, 12 Marks
English Language and Comprehension: 12 Questions, 12 Marks
Current Affairs & General Knowledge: 12 Questions, 12 Marks
Total: 60 Questions, 60 Marks
Crafting a Robust SLAT Preparation Strategy for 2024
SLAT, a gateway to BA LLB and BBA LLB courses at Symbiosis, demands a well-rounded approach in preparation. Here's a detailed guide:
Draft a Comprehensive Schedule: Allocate adequate time for all sections and balance your schedule to include studies and relaxation. Adhere to this for 6-7 months, incorporating at least one hour daily for solving previous SLAT questions.
Utilize Credible Preparation Material: Ensuring your study material is accurate and beneficial is pivotal. Garner books and notes from seniors or those who have previously appeared for SLAT.
Note-Making and Revision: Crafting short notes emphasizing major points and regular revisions solidifies your preparation.
Current Affairs Mastery: Daily newspaper reading and staying abreast with both national and global news enhances your current affairs proficiency.
Writing Skills Enhancement for WAT: Bolster your writing skills focusing on fluency, accuracy, speed, and vocabulary, ensuring you are well-equipped for the Writing Ability Test (WAT).
Mock Test Practice: Engaging in mock tests not only boosts your speed but also aids in identifying and improving weak areas.
Diving Deeper into Section-wise Preparation
Mastering English Preparation for SLAT 2024
Navigating through comprehension, vocabulary, grammar, and verbal ability in the English segment requires a firm grasp of grammatical concepts and a rich vocabulary. Employing SLAT analysis, practicing passages, and working on vocabulary, especially through reading, enhances your proficiency.
Analytical Reasoning: Ensuring Perfection
Involving a mixture of easy yet potentially tricky questions, the Analytical Reasoning section demands rigorous practice and sharp presence of mind. Referring to NCERT books (classes 6-12), ensuring clear concepts, and avoiding assumptions are key to acing this section.
Becoming a GK Maestro in SLAT Preparation
The GK section can be vast but not insurmountable. Regular newspaper reading, adhering to credible news sources, and employing a strategic 15-minute rule during mock tests enhances your performance in this section.
Conquering Logical Reasoning in SLAT
While questions in Logical Reasoning are of medium difficulty, they often incorporate a trick element. Persistent practice, revision, and strategic mock test analysis fortify your preparation in this segment.
Navigating Legal Reasoning with Expertise
Acquainting yourself with varied law sections, judgments, and amendments fortifies your preparation for Legal Reasoning. Focused practice on analysis questions, regular revision of legal terms, and staying updated on legal amendments enhance your SLAT preparation.
Key Takeaways
With SLAT being a critical stepping stone towards a promising law career, strategic preparation, encompassing a detailed understanding of the exam pattern, meticulous subject-wise preparation, and relentless practice, paves the way towards success. Start early, stay consistent, and harness this guide to navigate through your SLAT 2024 preparation
FAQ's on SLAT Preparation 2024
1. What is SLAT?
SLAT, or Symbiosis Law Admission Test, is an entrance examination conducted by Symbiosis International University for admissions into its law courses, such as BA LLB and BBA LLB.
2. What is the difficulty level of the SLAT exam?
SLAT is considered to be the second most challenging law entrance exam after CLAT, involving comprehensive sections like Logical Reasoning, Legal Reasoning, English, General Knowledge, and Analytical Reasoning.
3. What is the exam pattern of SLAT?
The SLAT exam pattern has five main segments: Legal Reasoning, Qualitative Reasoning, Quantitative Reasoning, English Language and Comprehension, and Current Affairs & General Knowledge. Each segment contains 12 questions, making a total of 60 questions, each carrying one mark.
4. How much time should be ideally devoted to SLAT preparation?
A minimum of 6-7 months of dedicated preparation is generally recommended to cover all topics, practice mock tests, and revise extensively to ensure a solid grasp of all subjects.
5. How crucial is the English segment in SLAT, and how to prepare for it?
The English segment is vital, encompassing Comprehension, Vocabulary, Grammar, Phrases, Idioms, and Verbal Ability. It requires focused preparation on grammar rules, vocabulary enhancement, and consistent practice on comprehension passages.
6. Are NCERT books useful for SLAT preparation?
Yes, referring to NCERT books, especially for Quantitative and Analytical Reasoning sections, is recommended to build foundational concepts, especially from classes 6-12.
7. How to prepare for the General Knowledge section in SLAT?
Preparation for the General Knowledge section involves consistent reading of daily newspapers, monthly magazines, and keeping oneself updated with national and international news from credible sources. Reading NCERT books on Social Sciences & Science is also advised.
8. Can mock tests improve performance in SLAT?
Absolutely! Regularly practicing mock tests can significantly enhance your speed, accuracy, and time management skills during the actual SLAT exam.
9. What should be the approach towards the Legal Reasoning section in SLAT?
For Legal Reasoning, it's imperative to stay updated with recent judgments and amendments passed by Supreme and High Courts across India. Also, focusing on practicing analysis questions, particularly of the Case Study type, and revising essential legal terms and articles is crucial.
10. How to balance between coaching classes and self-study during SLAT preparation?
Creating a well-structured schedule that allocates specific time slots for coaching classes, self-study, and regular revisions can help maintain a balance. Ensure that you spare time for solving previous year's papers and practicing mock tests alongside coaching classes.
11. What are some of the recommended books and materials for SLAT preparation?
Besides NCERT books for basic concepts, it is also advisable to refer to specific guidebooks and materials from renowned publishers and authors dedicated to law entrance exams. However, always consult with mentors or educators to choose the best-fit books for your preparation strategy.
12. Is there negative marking in the SLAT exam?
Always check the most recent examination guidelines provided by Symbiosis International University, as the marking scheme may undergo changes. It's vital to keep updated with the latest exam pattern and rules.
For more informative blogs on CLAT 2024 preparation, Click Here!