By I Aug 08, 2023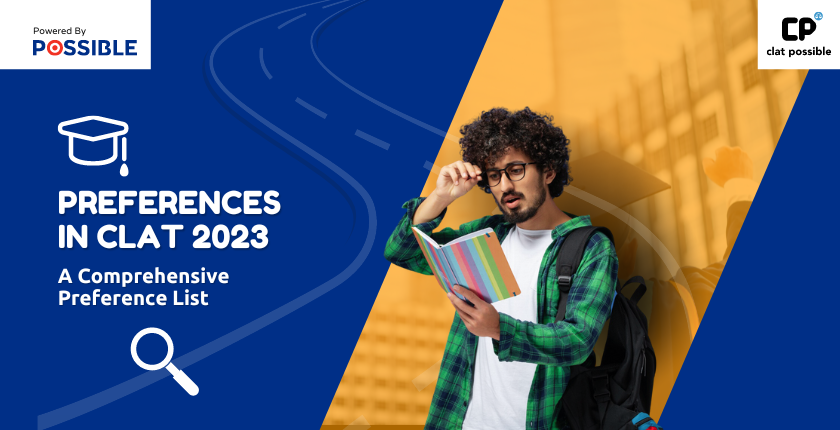 When it comes to pursuing a career in law, one of the most crucial decisions is choosing the right National Law University (NLU). NLUs in India offer exceptional legal education, and each has its unique strengths. In this article, we present a comprehensive preference list of NLUs to help aspiring law students make informed choice and set them on a path toward a successful legal career.
1. National Law School of India University, Bangalore (NLSIU) NLSIU, Bangalore, is the first NLU established in India and has consistently maintained its reputation as one of the best law schools in the country. Known for its rigorous academic curriculum and distinguished faculty, NLSIU offers a diverse range of specializations. The university's impressive placement record and extensive alumni network contribute to its immense popularity among law aspirants.
2. National Academy of Legal Studies and Research, Hyderabad (NALSAR) NALSAR is renowned for its academic excellence and innovative teaching methods. With a strong emphasis on research and advocacy skills, the university equips students with a well-rounded legal education. The campus atmosphere fosters intellectual growth and provides ample opportunities for co-curricular activities, making it a favorite among students.
3. National Law University, Delhi (NLU Delhi) NLU Delhi is known for its cutting-edge legal programs and multidisciplinary approach to law. The university offers a vibrant campus life and a wide range of opportunities for internships and placements. NLU Delhi's emphasis on social justice and public policy attracts students with a passion for bringing about positive change in society.
4. The West Bengal National University of Juridical Sciences, Kolkata (WBNUJS) WBNUJS boasts a strong faculty team comprising renowned legal scholars and practitioners. The university focuses on nurturing analytical and critical thinking skills in students. Its strategic location in Kolkata, a city with a rich legal history, provides unique exposure to legal professionals and various legal avenues.
5. National Law University, Jodhpur (NLU Jodhpur) NLU Jodhpur is celebrated for its exceptional moot court and debating culture, fostering a competitive spirit among students. The university's focus on practical legal training prepares students to excel in the legal profession. NLU Jodhpur's strong alumni network and robust placement opportunities make it an attractive choice for law aspirants.
6. Gujarat National Law University, Gandhinagar (GNLU) GNLU has gained prominence for its specialization in fields like international law, environmental law, and intellectual property rights. The university's faculty members are experts in their respective domains, providing students with valuable insights into complex legal issues. GNLU's serene and modern campus enhances the overall learning experience.
7. National Law University, Mumbai (NLU Mumbai) NLU Mumbai, with its emphasis on corporate and business law, is an excellent choice for students aspiring to enter the corporate legal sector. The university collaborates with industry experts, providing students with hands-on experience and networking opportunities. NLU Mumbai's location in India's financial capital adds to its allure.
8. Rajiv Gandhi National University of Law, Punjab (RGNUL) RGNUL is known for its inclusive and diverse learning environment. The university encourages students to engage in various legal research activities. RGNUL's commitment to academic excellence and practical learning equips graduates with the skills necessary to succeed in their legal careers.
9. National University of Advanced Legal Studies, Kochi (NUALS) NUALS offers a unique blend of traditional legal education with contemporary legal challenges. The university's emphasis on clinical legal education allows students to gain practical experience by working on real cases. NUALS' serene campus and holistic approach make it a preferred choice for law aspirants.
10. Hidayatullah National Law University, Raipur (HNLU) HNLU is known for its strong focus on legal research and academic scholarship. The university's rigorous academic programs and extracurricular activities ensure overall personality development. HNLU's efforts to promote social responsibility and legal aid add to its reputation.
Conclusion
Choosing the right NLU is a critical decision that can significantly impact a student's legal career. This comprehensive preference list provides valuable insights into the strengths and unique features of each NLU, helping aspiring law students make an informed choice. Each of these universities offers a distinct learning experience and ample opportunities for personal and professional growth.
For more informative Blogs on Clat 2024, Click Here!