By I Aug 29, 2023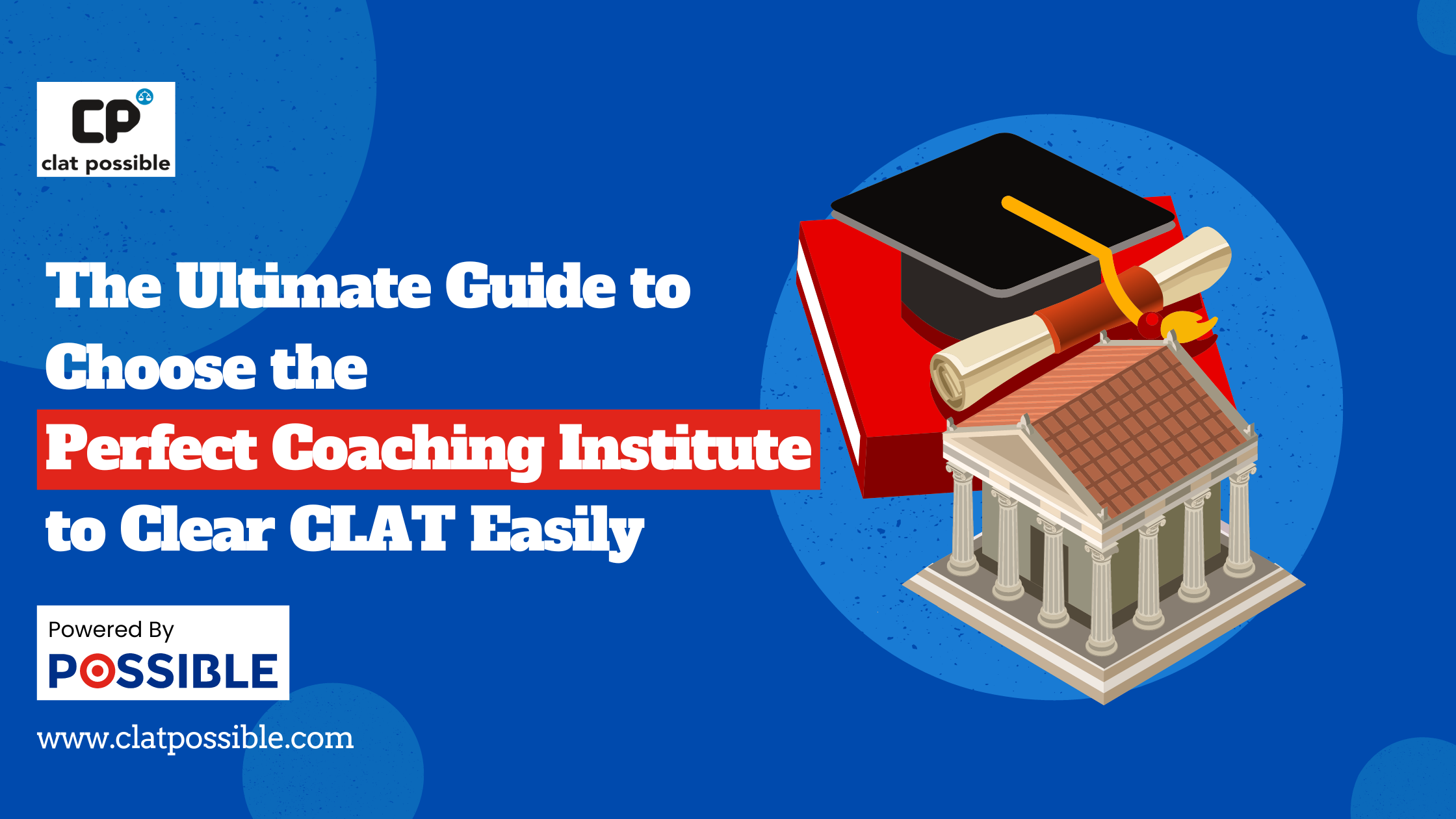 Selecting the right coaching institute is like finding a key that opens the door to success. Especially when we talk about an exam as competitive as the Common Law Admission Test (CLAT), it's essential to make an informed decision. If you're aiming to Crack CLAT 2024, this guide is for you. Let's delve into how to select the ideal coaching institute to Clear CLAT with Ease.
1. Comprehensive Study Material and Mock Tests
It's essential for the institute to provide you with study material that covers the entire syllabus comprehensively. It's a big plus if the institute regularly updates its material in line with the changing patterns of CLAT. Additionally, having mock tests will prepare you for the real exam environment, helping you to Clear CLAT Easily.
2. Expert Faculty
Faculty with a strong background in CLAT or law can make a massive difference. They don't just teach; they impart experiences, strategies, and shortcuts that can be the difference between success and disappointment.
3. Past Performance Record
Look for institutes that have consistently produced top rankers. For example, branches like Clat Possible Lucknow or Clat Possible Chandigarh might have a wall of fame showcasing their top performers. Their success stories can serve as a motivation for you.
4. Infrastructure and Facilities
A conducive learning environment can greatly enhance your preparation. Institutes like Clat Possible Mumbai and Clat Possible Delhi are often reputed for their infrastructure, spacious classrooms, libraries, and online resources.
5. Personal Attention and Batch Size
Opt for institutes that keep their batch sizes moderate. It ensures that you receive personal attention and your doubts get addressed promptly. For instance, Clat Possible Noida is known for maintaining a balanced student-teacher ratio.
6. Location and Accessibility
Your coaching institute shouldn't be so far off that traveling becomes a hurdle in your preparation. Check the commute time and transport availability before finalizing.
7. Online and Offline Flexibility
In this digital era, the option of online classes can be a boon. It's a great feature for those who can't attend in person. Hence, always check if your chosen institute offers both online and offline teaching modes.
8. Feedback from Alumni
Connecting with past students can give you genuine feedback about the coaching institute. They can share their experiences, the strengths and weaknesses of the institute, and their journey to Clear CLAT with Ease.
Unique Tips to Make the Most of Your Coaching:
Regularly attend doubt-clearing sessions: Make a list of doubts as you study and ensure they're addressed.
Peer Learning: Form study groups with fellow aspirants. Teaching someone else is often the best way to understand a concept deeply.
Stay updated with the legal world: CLAT isn't just about what's in the books. Keeping abreast with the latest legal developments will give you an edge.
FAQs:
What's the ideal batch size in a coaching institute? While there's no fixed number, a batch size of 20-30 students is usually considered moderate.
How important are mock tests in CLAT preparation? Extremely crucial. They help you get familiar with the exam pattern and improve your time management skills.
Can I Clear CLAT without coaching? Yes, many students clear CLAT through self-study. However, coaching institutes provide a structured study plan, guidance, and motivation which can be beneficial.
In conclusion, the journey to Clear CLAT with Ease requires dedication, the right resources, and guidance. While the best coaching institute might differ from person to person, knowing what to look for can ensure that your path to Crack CLAT 2024 is a smooth one. Do thorough research, visit institutes like Clat Possible Chandigarh or Clat Possible Mumbai, and trust your instinct before finalizing your choice.
For more informative blogs on Clat 2024 preparation,
Click Here!