By I Sep 27, 2023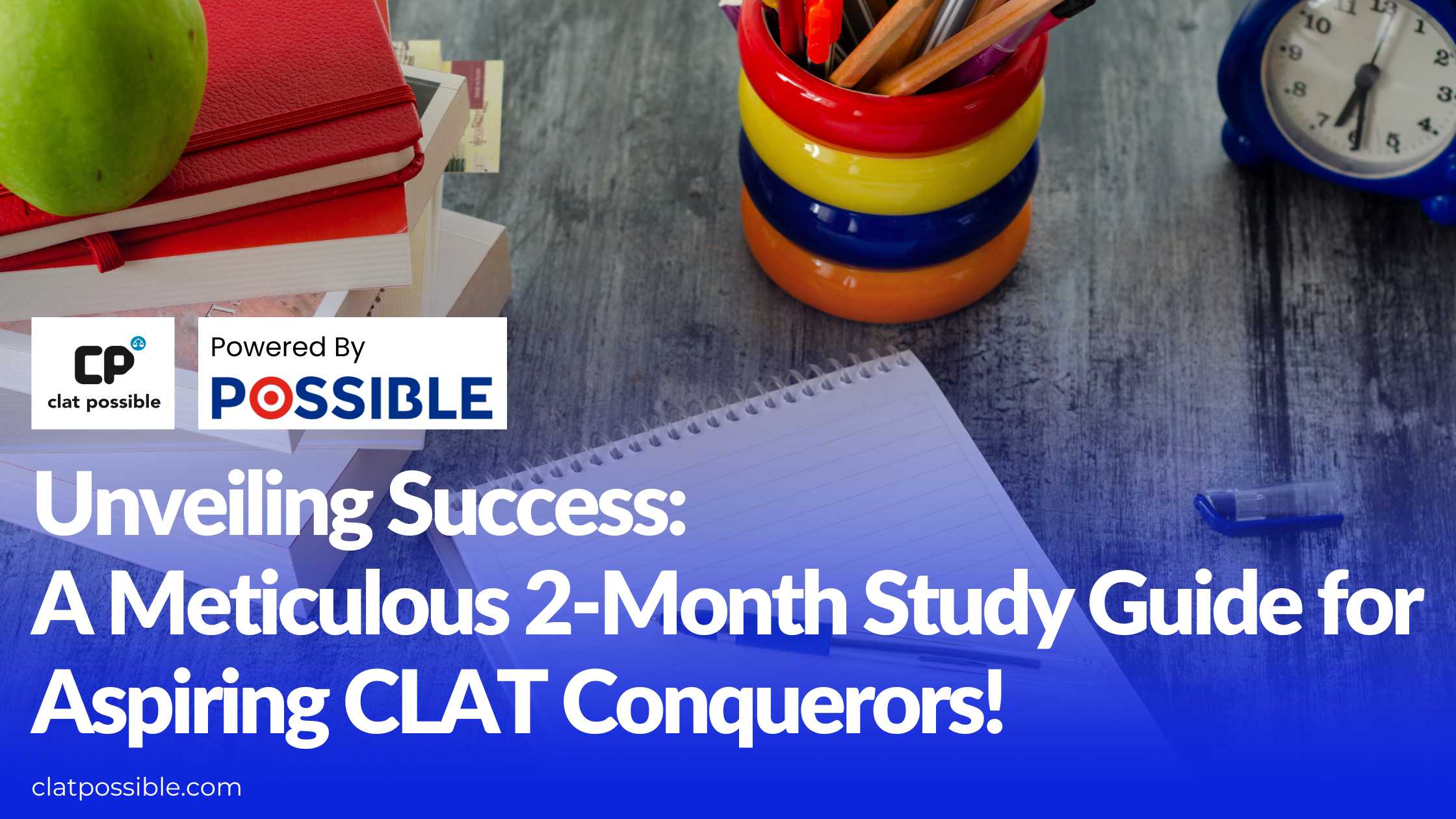 Introduction: The Common Law Admission Test (CLAT) stands as a robust cornerstone for any aspiring legal luminary keen on cementing their place within the prestigious portals of India's illustrious law institutions. With a mere two months separating the aspirants from their dream examination, the necessity of a well-thought-out, structured study plan looms large. This comprehensive guide aims not only to provide a detailed 2-month study plan but also to quell the myriad queries buzzing in the minds of CLAT hopefuls, via an insightful FAQ section.
Embarking on the Academic Expedition: A Section-wise Dissection
English including Comprehension (Week 1-2)

Dive headfirst into the ocean of English language and comprehension. Begin by tackling vocabulary; the roots of words, their synonyms, and antonyms should be on your fingertips.
A sound knowledge of grammar is non-negotiable. Delve into the core grammatical rules, and practice them daily.
Reading comprehension is not just about understanding the text but also about inferring the underlying meanings. Practice at least two comprehension passages daily to build a solid foundation.

General Knowledge & Current Affairs (Week 3-4)

Transition your focus towards the dynamic world of General Knowledge and Current Affairs during the subsequent fortnight. Your aim should be to become conversant with the world around you.
Daily reading of newspapers and reviewing monthly current affairs magazines should be etched into your routine.
Not just rote memorization, aim to understand the geopolitical and economic implications of major events.

Mathematics (Week 5)

As the fifth week rolls in, gear up to embrace Mathematics. Start with brushing up on the basic concepts before escalating to complex problems.
Dedicate your time to topics like Algebra, Mensuration, and Statistics, solving a plethora of problems to attain a fine blend of speed and accuracy.

Legal Reasoning (Week 6)

Legal Reasoning is the kernel of your CLAT preparation. Familiarize yourself with quintessential legal principles, terms, and maxims.
Dive into previous year question papers and mock tests to acquaint yourself with a variety of questions and to foster a disciplined exam temperament.

Logical Reasoning (Week 7)

Logical Reasoning demands a sharp, analytical mind. Engage with puzzles, syllogisms, and critical reasoning questions on a daily basis.
Rigorous practice is the key to decoding the logic behind seemingly complex questions. Unveil the patterns, practice them, and you shall master them.

Revision and Mock Tests (Week 8)

The last leg of your journey should be reserved for thorough revision and for taking mock tests.
Revise crucial formulas, tricks, and shortcuts that you've learned over the past seven weeks.
Attempting one mock test daily and analyzing your performance therein will provide the final polish to your preparation.
FAQs:
What should be the daily study duration? Strive for a rigorous 6-8 hour daily study routine. However, prioritize the quality and productivity of your study hours over sheer quantity.
Is enrolling in a coaching institute indispensable? While coaching institutes provide structured guidance, self-study, when coupled with reliable resources and an unwavering dedication, can also carve the pathway to success.
How to enhance speed and accuracy for the CLAT exam? Consistent practice, timed mock tests, and mastering shortcuts are the trifecta for boosting your speed and accuracy.
What should be the focal point during the last month of CLAT preparation? Concentrate on revising, practicing mock tests, and maintaining a sound physical and mental health. Refrain from venturing into uncharted topics during the eleventh hour.
Conclusion: The voyage towards CLAT triumph demands a judicious blend of diligent preparation, strategic revision, and unwavering self-belief. Adherence to the delineated study plan, coupled with regular self-assessment and a healthy dose of perseverance, is bound to place you in a vantage position in the run-up to the CLAT examination. Remember, success is where preparation and opportunity meet. Forge ahead, future legal luminaries, your destiny awaits!
For more informative blogs on CLAT 2024 preparation, Click Here!