By I Sep 22, 2023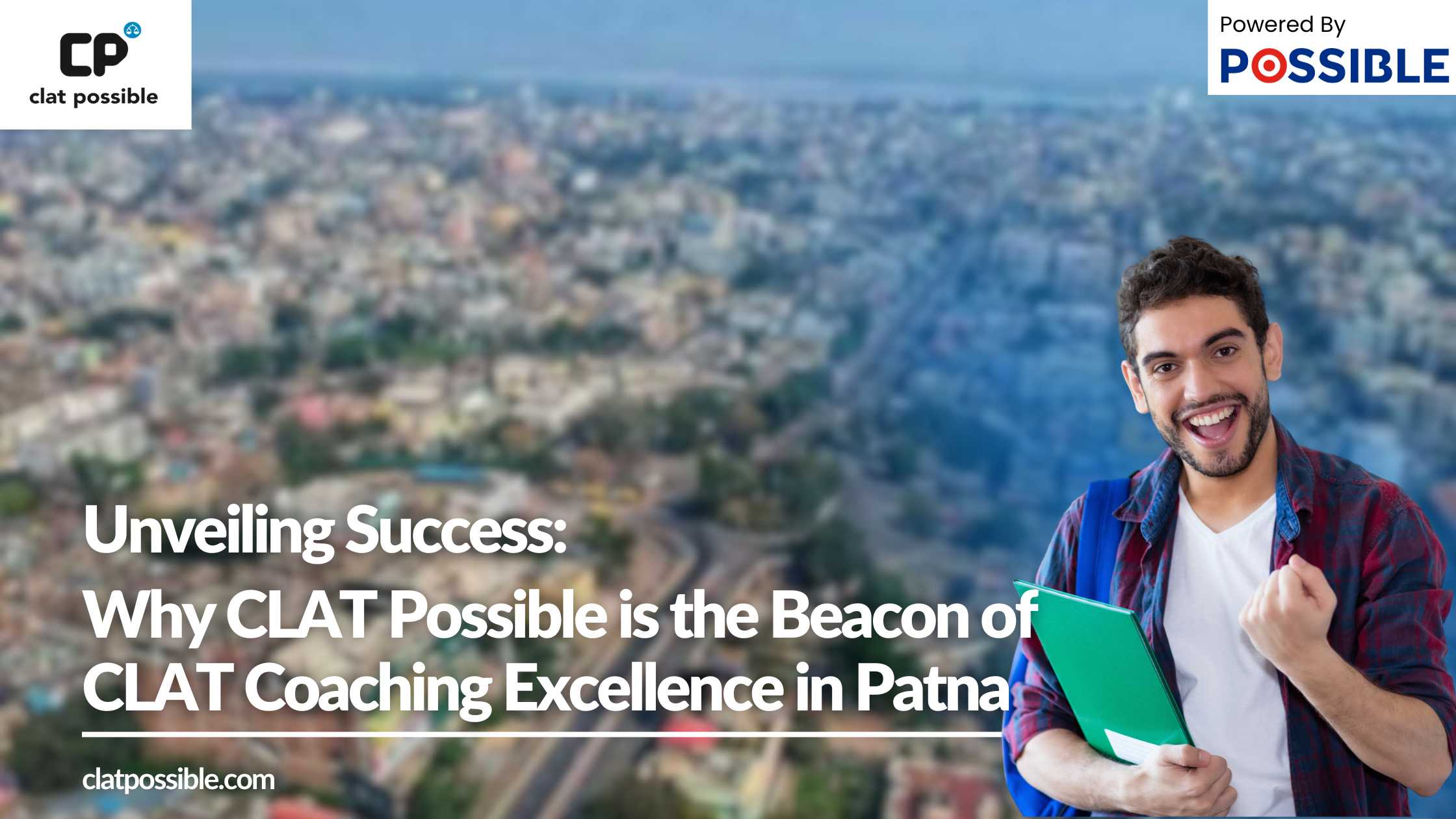 Introduction:
In the rigorous voyage towards mastering the Common Law Admission Test (CLAT), the importance of a lighthouse amidst a stormy sea cannot be overstated. In the realm of CLAT preparation in Patna, CLAT Possible emerges as that guiding light, steering legal aspirants towards the shores of success. Situated in the heart of Patna, CLAT Possible stands as the hallmark of CLAT coaching excellence. This blog navigates through the facets that contribute to making CLAT Possible the most sought-after CLAT coaching institute in Patna.
A Conducive Learning Environment:
At CLAT Possible, the ambiance is not merely about the brick and mortar; it's about nurturing a garden where the seeds of legal aspirations are sown, nurtured, and grown into robust trees of success. The institute harbors a conducive learning environment that transcends conventional coaching, offering a nurturing ground for both academic and personal growth.
Unparalleled Faculty Expertise:
Imagine having a round table of wizards, each a master in their realm, guiding you through the enchanted forest of legal education. The faculty at CLAT Possible personify this imagery. With a distinguished panel of experienced mentors, they illuminate the path of CLAT preparation, transforming complexities into a graspable understanding.
Success-Oriented Curriculum:
The curriculum at CLAT Possible isn't a mere collection of topics; it's a meticulously crafted roadmap towards CLAT success. Tailored to mirror the CLAT examination blueprint, it encompasses a comprehensive coverage of requisite topics. Each module is designed to equip aspirants with a formidable arsenal of knowledge, ready to conquer the CLAT battleground.
State-of-the-Art Infrastructure:
With a modern infrastructure reminiscent of a well-equipped fortress, CLAT Possible houses extensive resources including a well-stocked library. Here, students have a treasure trove of legal knowledge at their fingertips, providing them an edge in their preparation voyage.
Regular Mock Tests and Assessment:
Mock tests at CLAT Possible are the rehearsal before the grand theatre of CLAT. They simulate the exact exam scenario, enabling students to hone their time management and problem-solving skills under realistic conditions. The feedback from these assessments acts as the compass, guiding students towards areas requiring more attention.
Interactive Doubt-Solving Sessions:
The interactive doubt-solving sessions at CLAT Possible are the bridges over turbulent waters, helping students cross over the hurdles of uncertainties and doubts. These sessions ensure that every query is addressed, every concept is crystal clear, forming a solid foundation for the forthcoming CLAT challenge.
FAQs:
What sets CLAT Possible apart in Patna's CLAT coaching arena?
CLAT Possible stands distinguished with its exceptional faculty, personalized mentoring, success-driven curriculum, and modern infrastructure, setting the gold standard in CLAT coaching in Patna.
How do the faculty at CLAT Possible contribute to a student's success?
The experienced faculty at CLAT Possible provide individualized attention, ensuring each student's doubts are clarified, and they are well-prepared to tackle the CLAT examination.
Is there a provision for online coaching at CLAT Possible?
Absolutely, CLAT Possible extends its excellent coaching services online, ensuring aspirants can continue their CLAT preparation seamlessly, irrespective of their location.
Conclusion:
CLAT Possible isn't just an institute; it's the crucible where legal aspirations are forged into reality. By marrying exemplary coaching with a nurturing environment, CLAT Possible crafts a preparation experience that's as enriching as it is result-oriented. When it comes to transforming legal education dreams into tangible success, CLAT Possible stands as the undisputed choice for CLAT coaching in Patna. For more informative blogs on CLAT 2024 preparation, Click Here!