By I Sep 28, 2023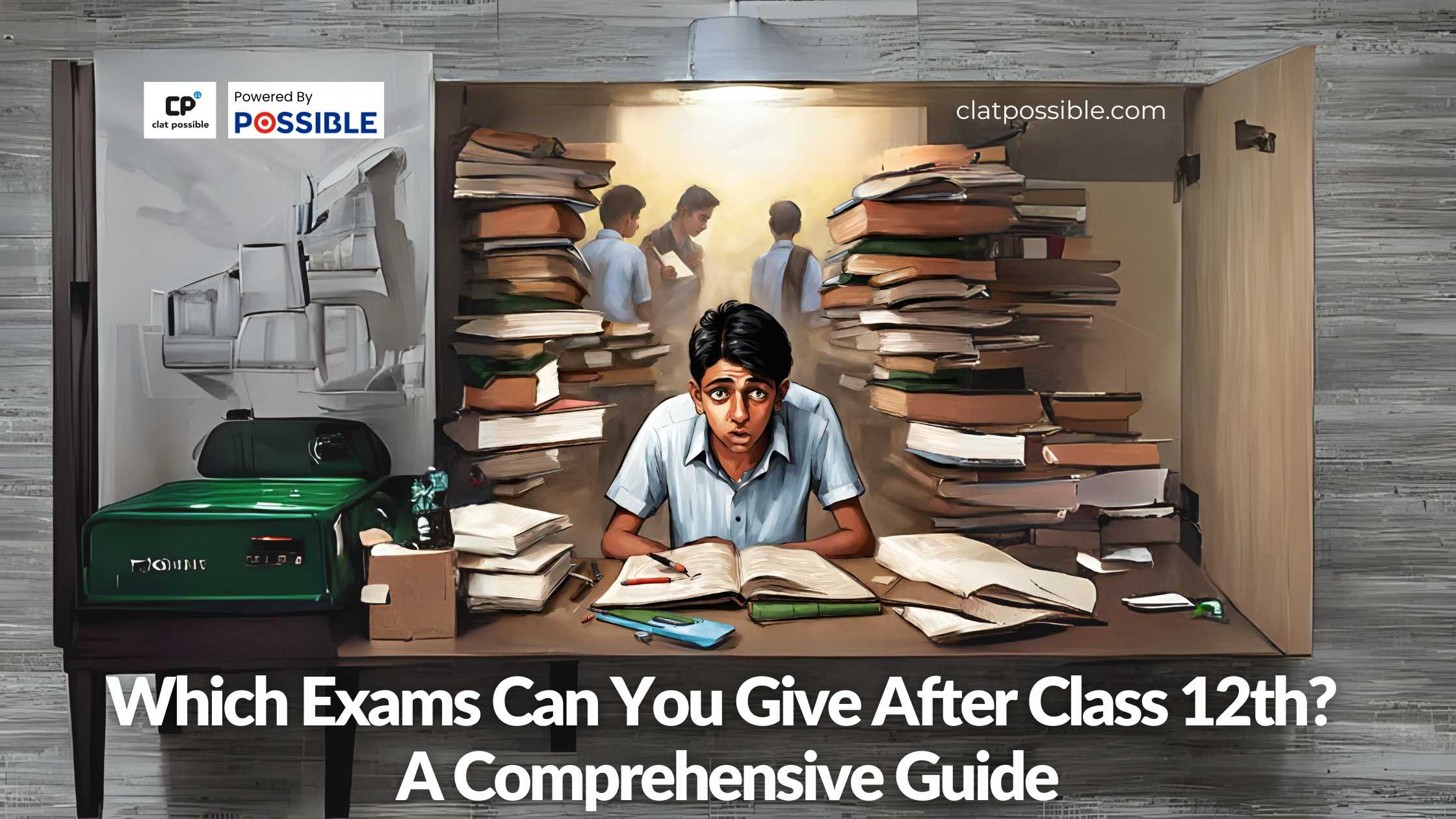 As you stand at the crossroads of your academic journey after Class 12th, one of the most pivotal decisions you'll face is choosing the right entrance exams. Your choice will determine the path you tread in higher education and, ultimately, your career. In this comprehensive guide, we'll delve into the various options available after Class 12th and, more importantly, why CLAT Possible should be your preferred destination for coaching and guidance.
1. Common Entrance Exams After Class 12th:
After completing your Class 12th, a plethora of entrance exams awaits, each catering to a different field of study. Here are some of the most common ones:
JEE (Joint Entrance Examination): If you aspire to become an engineer, JEE (Mains and Advanced) is the gateway to prestigious engineering colleges in India.
NEET (National Eligibility cum Entrance Test): For those with dreams of becoming doctors, NEET is the key to securing admission to medical colleges across the country.
CAT (Common Admission Test): If business management is your calling, CAT opens doors to the top B-schools in India.
CLAT (Common Law Admission Test): For aspiring lawyers, CLAT is the first step toward a rewarding legal career.
2. Exploring CLAT (Common Law Admission Test):
Among these options, let's focus on CLAT, which is the ticket to India's premier law schools. CLAT is designed for students interested in pursuing undergraduate and postgraduate courses in law. It evaluates your knowledge of English, mathematics, reasoning, and legal aptitude. Successful candidates gain admission to prestigious institutions like the National Law Universities (NLUs) and other renowned law colleges.
3. Why Choose CLAT Possible?
Now that you've decided to embark on your legal journey, it's essential to receive guidance from the best. That's where CLAT Possible comes into play. We are not just a coaching institute; we are your partners in success.
Here's why you should choose us:
Personalized Attention: At CLAT Possible, we believe in the individual growth of each student. Our small batch sizes ensure that you receive personalized attention from experienced faculty members.
Comprehensive Study Materials: We provide comprehensive study materials that cover every aspect of the CLAT syllabus, ensuring you are well-prepared for the exam.
Mock Tests and Practice: To excel in CLAT, practice is key. We offer a range of mock tests and practice papers to simulate exam conditions and boost your confidence.
Success Stories: Our track record speaks for itself. Numerous CLAT Possible alumni have secured admissions in top NLUs and other prestigious law institutions.
4. Conclusion:
In the post-Class 12th journey filled with career choices, the choice of entrance exams is of paramount importance. It defines your academic and professional trajectory. By choosing CLAT and partnering with CLAT Possible, you are taking a significant step towards a rewarding legal career. Join us, unlock your potential, and ace CLAT and other law entrance exams with confidence.
FAQs:
Q1: What are the common entrance exams after Class 12th?
A1: Common entrance exams after Class 12th cover a wide range of fields. Some of the most common ones include JEE (for engineering), NEET (for medical), CAT (for management), and CLAT (for law). Each exam caters to specific career paths and academic interests.
Q2: Why should I consider CLAT after Class 12th?
A2: CLAT, or the Common Law Admission Test, is an excellent option for those interested in pursuing a career in law. It provides access to top law schools in India and offers a diverse range of legal career opportunities, from practicing law to legal research and corporate law.
Q3: Can I prepare for multiple entrance exams simultaneously, such as JEE and CLAT?
A3: While it's possible to prepare for multiple exams simultaneously, it can be challenging due to the varying syllabi and skillsets required. It's advisable to focus on one primary exam, such as JEE or CLAT, and choose additional exams based on your interests and strengths.
Q4: What is the eligibility criteria for CLAT?
A4: To be eligible for CLAT, you should have completed your Class 12th or equivalent examination with a minimum percentage, which varies from year to year. Specific eligibility criteria may differ among NLUs (National Law Universities) and law colleges, so it's essential to check the official CLAT website for the most up-to-date information.
Q5: How does CLAT Possible prepare students for the CLAT exam?
A5: CLAT Possible offers a comprehensive coaching program specifically tailored to CLAT and other law entrance exams. Our experienced faculty members provide in-depth subject knowledge, conduct regular mock tests, and offer personalized guidance to ensure students are well-prepared for the CLAT exam.
Q6: What is the success rate of students who have undergone coaching at CLAT Possible?
A6: CLAT Possible has a proven track record of success, with many of our students securing admissions in top NLUs and prestigious law colleges. Our success stories are a testament to our effective coaching methods and dedicated faculty.
Q7: How can I enroll in CLAT Possible for coaching?
A7: Enrolling at CLAT Possible is easy. You can visit our website or contact our nearest branch for registration details. We offer various coaching programs to cater to your specific needs and goals.
Q8: Are there scholarships available for aspiring law students at CLAT Possible?
A8: CLAT Possible is committed to supporting talented students. We often offer scholarships and discounts to deserving candidates. For information on current scholarship opportunities, please visit our website or inquire at one of our centers.
Q9: Can I pursue other courses along with CLAT preparation at CLAT Possible?
A9: Yes, you can pursue other courses or degree programs alongside your CLAT preparation. Many students opt for undergraduate courses in humanities or commerce while preparing for CLAT. Our flexible coaching schedules can accommodate your academic pursuits.
Q10: How can I stay updated with the latest information about CLAT and other law entrance exams?
A10: Staying informed is crucial. Follow CLAT Possible's blog and social media channels for regular updates on exam patterns, important dates, and expert tips on exam preparation.
Including these FAQs and their answers in your blog post will provide valuable information to your readers and showcase CLAT Possible's expertise in helping students navigate the world of entrance exams.
Ready to take the first step towards your legal career? Enroll with CLAT Possible today and secure your future in the world of law. For more informative blogs on CLAT 2024 preparation, Click Here!