By I Sep 28, 2023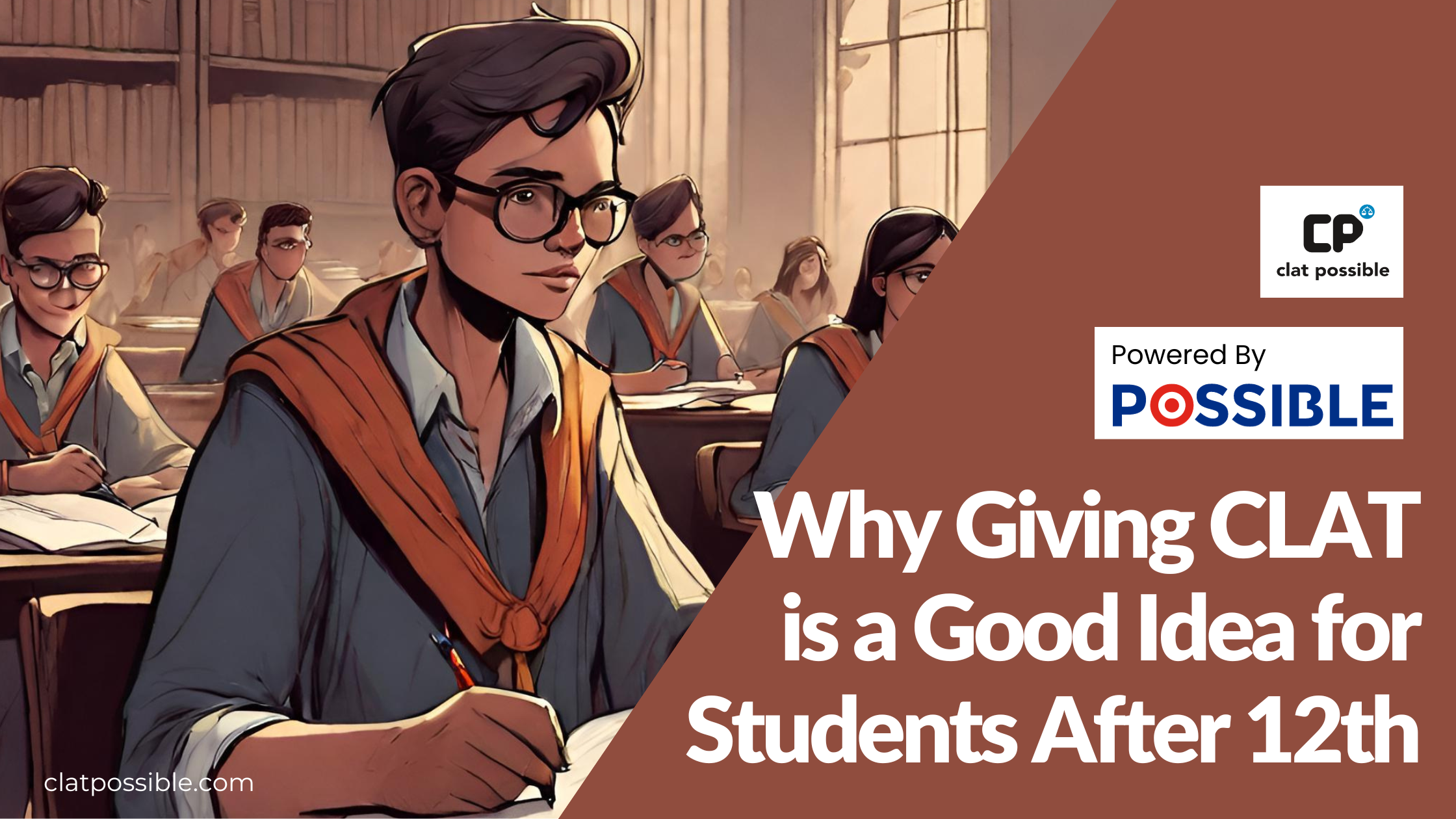 Introduction: Choosing the right career path after completing your 12th grade can be a daunting task. One option that holds immense promise and opportunities for students is taking the Common Law Admission Test (CLAT). In this comprehensive guide, we'll delve into the reasons why giving CLAT is a fantastic choice for students after 12th and how CLAT Possible can be your trusted partner on this transformative journey.
Why Choose CLAT After 12th?
Lucrative Career Options:

Earning a law degree through CLAT opens doors to some of the most prestigious law schools in India. Graduating from these institutions can lead to a fulfilling and financially rewarding career in law.
Careers in law are highly respected and offer competitive salary packages, making it an attractive choice for ambitious students.

Versatile Field:

A law degree is incredibly versatile, allowing graduates to work in various fields, including corporate law, litigation, human rights, environmental law, and more.
The legal profession is not limited to courtrooms; it also involves advisory roles, policymaking, and advocacy.

Influence and Advocacy:

Lawyers have the power to influence policy, advocate for justice, and make a real impact on society.
If you're passionate about social justice, human rights, or public service, a career in law can be a powerful platform for change.

High Demand:

The demand for skilled lawyers is on the rise, ensuring a steady stream of job opportunities.
The legal profession offers stability and job security, which is particularly important in today's ever-changing job market.
FAQs About CLAT and CLAT Possible
Q1: What is CLAT, and Why Should I Take It? A1: CLAT, or the Common Law Admission Test, is a highly competitive entrance exam for admission to the top National Law Universities (NLUs) in India. Taking CLAT is an excellent idea because:
It grants you access to premier law schools.
It is recognized by numerous other law colleges.
A law degree is versatile and opens doors to a wide range of career opportunities.
Q2: Can I Prepare for CLAT Without Coaching?  A2: While self-study is an option, CLAT is a challenging exam that requires comprehensive preparation. Here's how CLAT Possible can help:
Our experienced faculty provides expert guidance and support.
We offer meticulously designed study materials and practice tests.
Regular mock tests help you assess your progress and identify areas for improvement.
Q3: How Does CLAT Possible Help Students? A3: CLAT Possible is a renowned coaching institute known for its exceptional results. We assist students in the following ways:
Personalized Guidance: We understand every student's unique needs and provide customized support.
Extensive Study Materials: Our comprehensive study materials cover all aspects of the CLAT syllabus.
Mock Tests and Feedback: Regular mock tests simulate exam conditions, and detailed feedback helps you refine your strategy.
Proven Success: We have a track record of producing top CLAT performers.
Q4: What Sets CLAT Possible Apart from Other Coaching Institutes?  A4: CLAT Possible stands out due to its commitment to student success:
Small Batch Sizes: We maintain small batch sizes to ensure personalized attention.
Experienced Faculty: Our faculty consists of seasoned educators and legal experts.
Holistic Preparation: We focus on all aspects of CLAT, including critical thinking, legal reasoning, and general awareness.
Continuous Support: Our mentors are with you every step of the way, from enrollment to exam day.
Conclusion: Choosing to give CLAT after 12th can be a transformative decision for your future. It's a gateway to a rewarding legal career filled with opportunities to make a meaningful impact on society. At CLAT Possible, we're committed to guiding you through this journey with top-notch coaching and a proven track record of success. Join us, and let's work together to make your CLAT dreams come true.
Ready to kickstart your CLAT journey with CLAT Possible? Contact us today for expert coaching and personalized guidance to secure your future in law.
For more informative blogs on CLAT 2024 preparation, Click Here!