By I Oct 14, 2023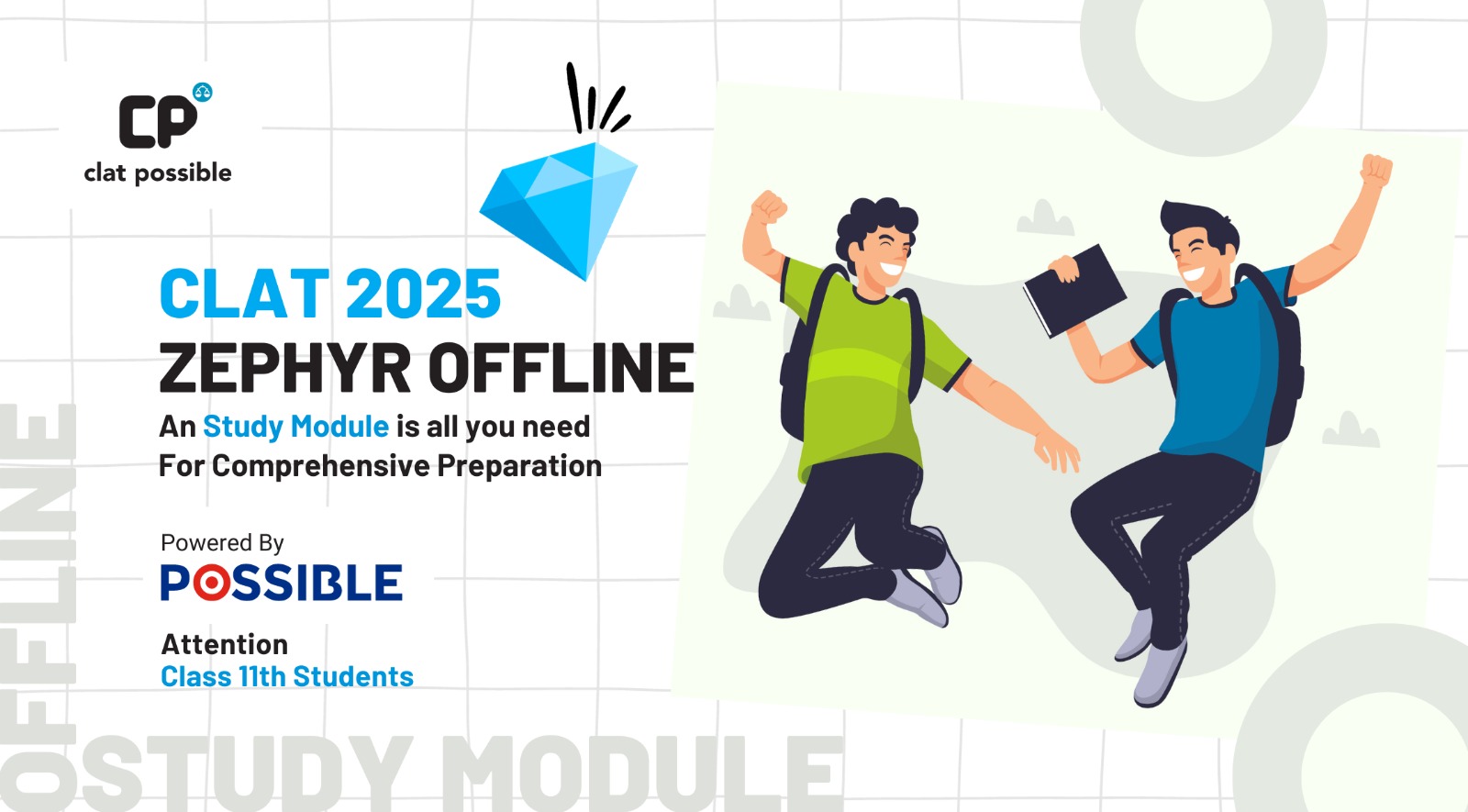 The journey to cracking one of India's most sought-after law entrance exams, CLAT, requires dedication, the right resources, and guidance. CLAT Possible, with its reputation for producing top rankers, brings forth its two-year intensive program: 'ZEPHYR OFFLINE'. Here's an in-depth look into why this program stands out.
Understanding ZEPHYR OFFLINE
Before diving into the details, it's essential to understand what ZEPHYR OFFLINE is. It's not just another CLAT preparation module but a carefully crafted program for class 10th and 11th students targeting the CLAT Exam of 2025. Power-packed with expert-led sessions and supported by POSSIBLE, it ensures aspirants are well-prepared.
Features that Make ZEPHYR OFFLINE Stand Out
1. Extended Preparation Time: Over two years, students undergo a phased approach to CLAT preparation. Year one focuses on basics, introducing students to law entrance patterns, while year two is dedicated to intensive practice and revision.
2. Designed for School Students: Balancing school with CLAT preparation can be challenging. ZEPHYR OFFLINE synchronizes with the school curriculum, ensuring students don't feel overwhelmed.
3. Comprehensive Study Material: Alongside classroom sessions, students receive the full offerings of TS Summons Plus. This ensures they have access to a plethora of resources, from mock tests to sample papers and e-books.
4. Interactive Offline Sessions: There's no substitute for in-person doubt clearing. The offline classroom sessions provide students an opportunity to engage with peers, participate in group discussions, and receive immediate feedback.
Why ZEPHYR OFFLINE is Your Best Bet for CLAT 2025
Expert-Led Guidance: CLAT Possible takes pride in its panel of experts. With ZEPHYR OFFLINE, students get access to mentors who've cracked the code of CLAT, ensuring aspirants get first-hand insights.
Tailored Strategy: The program doesn't follow a one-size-fits-all strategy. It recognizes the unique learning curve of each student and adapts accordingly, ensuring everyone's on track.
Diverse Learning Tools: Beyond traditional classroom teaching, students have access to quizzes, mock tests, interactive seminars, and more, making learning engaging.
FAQs
1. Who is the ideal candidate for ZEPHYR OFFLINE? ZEPHYR OFFLINE is perfect for students in classes 10th and 11th who are determined to crack CLAT in 2025.
2. How does ZEPHYR OFFLINE differ from other CLAT modules? Its extended duration, alignment with school curriculum, and inclusion of TS Summons Plus offerings set it apart.
3. How can I track my progress? Regular assessments, feedback sessions, and performance analytics ensure students are always aware of their progress.
4. Is there any post-program support? CLAT Possible has a robust support system. Even after course completion, students can reach out for doubt clearing and guidance.
5. Are there any scholarships or financial aid options? For detailed information on scholarships or financial aid, prospective students should contact CLAT Possible directly or visit their official website.
In Conclusion
As the legal field continues to evolve and expand, the competition to enter top law schools becomes even more fierce. With ZEPHYR OFFLINE by CLAT Possible, students get a structured roadmap, expert guidance, and a plethora of resources, making it the ideal companion in their CLAT 2025 journey. It's time to take a step closer to your law dreams!
For more informative blog on CLAT 2024 preparation, Click Here!